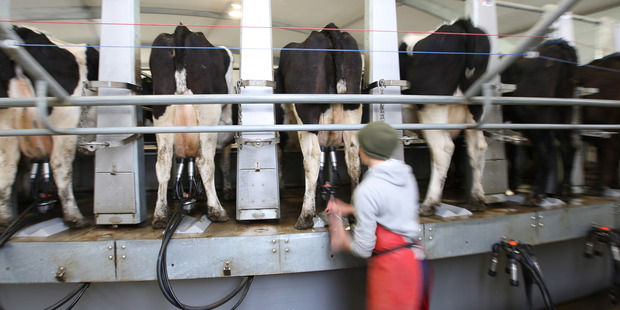 I have just returned from a trip to the United States to be greeted by a whole lot of doom and gloom regarding the immediate outlook for milk prices and dairy futures.
Although optimistic in my general point of view, I am getting more than a little nervous as to what the next financial year may bring to our dairy industry.
Like most of my fellow farmers, I am unhappy with the interim results posted by Fonterra. And although I have some understanding as to why the milk price has been undermined, I am frustrated by the poor dividend, meaning that the value-added side of the business is more than a little dysfunctional and certainly not pulling its weight. It is hard to stomach, especially when it is rumoured that Tatua will post about $7 for its payout.
Through the wonders of modern social media I was able to listen to some of the comments made surrounding this lack of performance. It sounded to me as if many farmers were ready to sell shares and then supply the local corporate processor down the road.
Yes, I believe most Fonterra farmers deserved a better dividend, but this talk of simply deserting the dominant co-operative for easy access to share capital was a little alarming to me in my hotel room 11000km away.
It was a worry because when you travel the world and talk to local farmers, as I was able to in California, Fonterra and other co-operative companies are to them wonders of the modern dairy world.
Too often they are fighting in fragmented markets where, as suppliers, they have no control over price paid or conditions of supply. They know they will be treated as any other supplier, where the processor will try to pay the least possible amount for the raw material, in this case milk. As one farmer said to me: "The more fragmented the industry and the factories are the less you make out of the product in real terms."
At least with Fonterra -- and to a certain extent the other co-operatives as far as I'm aware -- there is a certain transparency around the milk price paid to the farmer/supplier/shareholder, and that price will be the maximum amount that can be paid.
There are also other benefits belonging to a company such as Fonterra, including guaranteed payments on the 20th of the month and guaranteed milk collection within a specified timeframe. These simple things that New Zealand farmers take for granted are not especially common in other overseas dairy markets.
So to those farmers who want to desert a strong co-operative in order to chase some perceived short-term advantage, please just beware of what could happen to this presently strong industry if we all lose our collective strength.
We'd likely become peasants in our own land.
Andrew McGiven is Federated Farmers Waikato Dairy chairman.