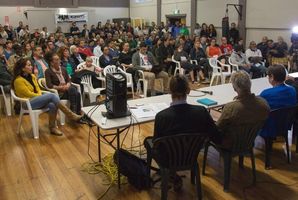 Last Tuesday evening no one was having a beer at the local club, or enjoying the sunset at the beach.
The Raglan townspeople turned out in force to a public meeting at the town hall, eager to have questions answered about the Government's plans to permit deep sea oil drilling and seabed mining off the North Island's west coast.
A panel included representatives from organisations including Tainui, Kiwis Against Seabed Mining (KASM), and Greenpeace, Anadarko, Trans-Tasman Resources, NZ Petroleum and Minerals, the Environmental Protection Authority and Maritime NZ. MP Shane Ardern declined an invitation.
The atmosphere in the room was electric as facts centred on two main concerns were laid out for all to consider.
First, the imminent arrival of Texan oil company Anadarko's drilling ship - scheduled to commence deep sea oil drilling in a matter of days 100nm off the west coast.
It is astonishing the previously-untested drill ship, owned by a company that paid out $4 billion for its part in the 2010 Gulf of Mexico oil disaster, has been permitted to enter New Zealand waters and drill a 1500m exploratory well.
This is at least five times the depth of any previous New Zealand oil drilling activity. Many raised concerns that there isn't a strong contingency plan in place for any mishaps, with the closest well containment support more than 20 days away in Singapore.
Seabed mining
Trans-Tasman Resources recently lodged the first marine consent application to dredge the South Taranaki sea floor for iron. This would entail suction dredging up to 20m (equivalent to a six-storey building) of the seabed.
KASM stated that would destroy aquatic life. "The ocean is an inter-connected ecosystem," said spokesman Phil McCabe.
"This could affect fisheries in the entire region."
There were also exclamations of shock throughout the room as residents realised the proposed seabed mining area is part of Maui dolphin territory - with a mere 55 left. It is a substantial threat to their survival.
National MP Simon Bridges has made an economic case for both endeavours (perhaps his most head-shaking attempt recently seen on Campbell Live where Bridges blindly bulldozed his way through repetitive arguments which all start off with "the fact of the matter is").
This was countered by Greenpeace spokesman Steve Abel, who outlined that the anticipated revenue for New Zealand would amount to less than one per cent of GDP and the expected 90 additional jobs created is economically irrelevant, with mining currently making up 0.3 per cent of the New Zealand workforce (6000 jobs).
Phil McCabe said most of the seabed mining revenue would go straight offshore, as Tran-Tasman Resources is 92 per cent foreign owned. The government would receive up to 5 per cent of the ore's value in royalties.
After nearly three hours of lively discussion and question answering, residents were keen for action. Members volunteered to write submissions, make signs, and organise peaceful protests.
People in the packed-out hall made their opinions about deep sea oil drilling and seabed mining clear, with a unanimous vote against both at the close of the meeting.
Let's hope our country can find other, less potentially devastating ways to generate crown revenue.
Latesha Randall is a Raglan-based business consultant with an interest in start-ups and sustainability.