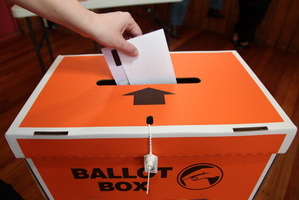 Questions will not be about who voted in the 2013 local body elections, but about who didn't vote - and why.
Indications are that Hamilton's election turn-out will one of the lowest on record; and the country's fourth largest city is not alone in voter reluctance. Figures from all over the country are showing a disinclination to register an opinion on local politics before close off at noon tomorrow.
After less-than-encouraging results in 2010's election, when Hamilton figured as one of the worst performing centres with a 38 per cent voter turn-out, this year's results are looking worse. Early figures show votes tracking well below 2010. By midweek less than 25 per cent of those eligible had bothered to vote. The chat is that a sweep run by incumbent Hamilton councillors saw most money on a total vote of 35 per cent or under.
What are the reasons? Postal voting is simple - and the option of casting a vote in the traditional way is still available.
It is not as if there is a lack of interest in the Hamilton election which also features the fluoride and STV referendum, at least judging by letters to the editor, attacks on signs, police investigating electoral breaches, social media bitchiness and a two-horse mayoral race.
Apart from the initial mayoral forum candidates' meetings have not attracted major audiences. But that is par for this particular course.
What is more sinister is the increasing lack of connection with civic affairs by the very people supposed to benefit from a dynamic and effective city council.
Collectively people are not silly. There is an underlying reason for the continued silent revolt, a refusal to take part in the local democratic process. It must be addressed.
Not voting is not an answer to dissatisfaction. But surely it is a warning there needs to be an analysis of the root cause of what could lead to the demise of one of the building blocks of society.
Ratepayers, far and away the most likely to vote, need to be assured that their interests are being met and their opinions are valued.
Well paid council staff and elected councillors need to be aware for whom they work.