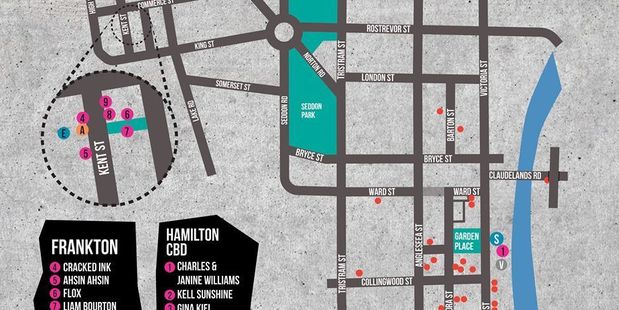 Work started yesterday on Hamilton's largest piece of street art at Victoria on the River as part of the BOON Street Art Festival.
Visitors to the park will be able to watch a wall at the park as it is painted by internationally-renowned, Auckland-based duo Charles and Janine Williams. So far, there is no hint of what the work will depict.
The artwork on a wall of SkyCity will be Hamilton's largest at 39m wide and 15m high.
The festival runs from March 8 to 11 with nine other pieces of art also being created in the CBD and Frankton (see map).
Hamilton-based artists at this year's festival include Ahsin Ahsin, Jodi McBride, the Underwater Collective's Ali Selliman, Rachel Peary, and Liam Bourton.
Other visiting mural magicians include the Mighty Flox, Cracked Ink, Kell Sunshine and Gina Kiel.
BOON 2018 will feature an exhibition, where past and present BOON artists can show and sell their work on March 9 at Agora Café in Frankton.
This will be the third year that the festival has run.