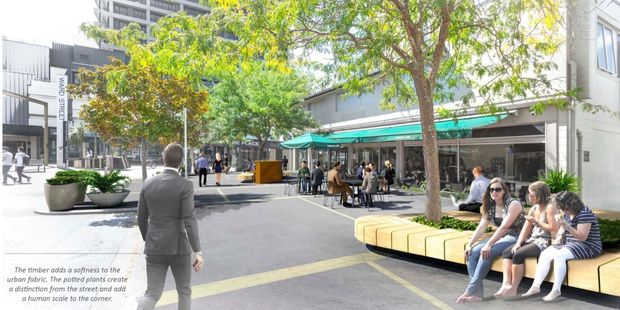 A $50,000 renovation for the soon-to-be Dame Hilda Ross Plaza is in the pipeline, despite new councillor Ryan Hamilton's attempt to cut funding for the project in half.
At a community and services meeting last week, Hamilton City council approved the money to make minor renovations to the area.
The upgrade would include relocating a WEL Energy box and rubbish bins, reducing the size of one planter box and installing new seating.
The plan is to retain the current landscaping elements on site, including brick paving, brick planters and trees. Pavement cleaning and replacement planting would be carried out from operational maintenance budgets. Mr Hamilton did not support spending up to $50,000 on the renovations and believed businesses in the area should be stepping up.
"If businesses see council signalling money no one is going to say we will donate. They will only donate if they see a shortfall like on Victoria on the River," Mr Hamilton said.
Mr Hamilton put forward an amendment, seconded by councillor Garry Mallett, to only put forward $25,000 in funding.
Mr Mallett was concerned that a decision had already been made without councillors knowing that the money would come from the savings on Victoria on the River, which he argued could be spent elsewhere.
The motion noted that the funding could be covered by a saving from a capital project.
Councillor Dave Macpherson said Mr Mallet's claim was false, and the money could come from any capital project and not Victoria on the River.
"Except staff have plainly told us it is from Victoria on the River, so we can pretend we did not hear that or we can be honest about it and say staff have advised us," Mr Mallet said.
"We often pretend we do not hear things Garry," Mr Macpherson said.
"So we are going to ignore reality and pretend we have not heard something we have heard?" Mr Mallett said.
Councillor Rob Pascoe said the council could not rely on businesses to always be there to help share the burden of costs.
"I do not think we can rely on businesses to keep coming back and topping us up because we make public decisions like this," Mr Pascoe said.
Councillor Mark Bunting was still not in favour of renaming Ward Street, but respected the decision of the group.
"I take up up Councillor Hamilton's point that $30,000 to spend on moving some rubbish bins does seem quite a lot when WEL Energy can move their power box for $15,000," Mr Bunting said.
Councillor Leo Tooman was against both the motion and the amendment.He asked why so much money had to be spent on the renovation.
"I can't support $50,000 to move a few rubbish tins around," Mr Tooman said.
"It is surprising just what can be done by gardeners in this city. You only have too look at some of the roundabouts in here. They are beautiful."
"A water blast can make a hell of a difference down there, and I will be voting for the status quo."