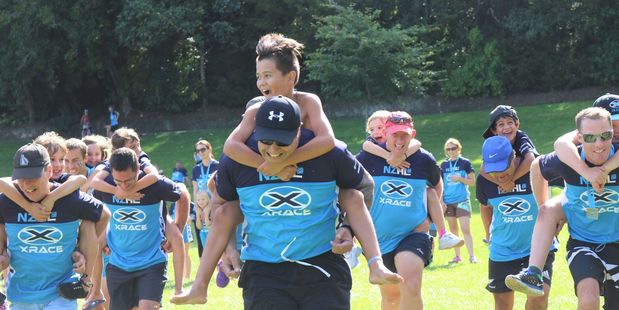 Sort of like The Amazing Race but for 250 teams at once, XRACE is a mystery adventure race made up of a parent and child.
The duos race together side-by-side against other family teams to complete 10 mystery challenges, a mixture of fun tasks which carry life skills as well.
XRACE director Tamara Hermans said the event is a real, authentic bonding experience.
"A mum can do a marathon and a child can do a triathlon, but XRACE is the only event that brings the two together," she said.
The 2018 Hamilton leg is being held Sunday February 25 at the University of Waikato. With the average distance between challenges being 300m, families of all fitness levels can sign up — a parent and their child aged from 6 to 14.
Hermans said she is excited for the Hamilton return.
"We were last at the uni grounds in 2015, and it provides the perfect landscape to hold an XRACE.
With all this hot weather forecast, I can tell you we will be putting the swimming pool to good use.
"The competitive nature varies not just between teams but families too — we have a lot of two-team families where Mum races with one child and Dad with the other. Some definitely race as hard as they can for bragging rights.
"But competition isn't always the focus. Teams can go as fast or slow as they want — it's completing the course that's the fun and the goal."
Families can still enter online at www.xrace.co.nz