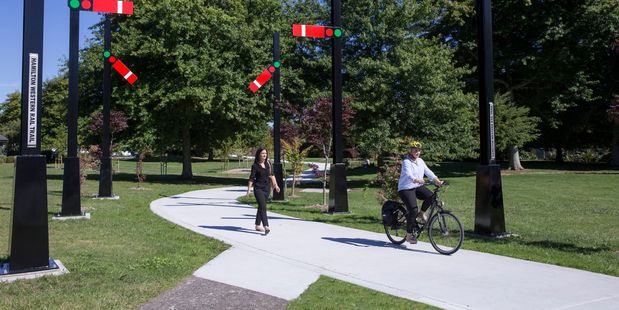 If your Christmas gift was a bike or you're just keen to get out more this year, Hamilton City Council's strategic transport planner Katherine Johns says people new or returning to biking will find pedal power is a great way to enjoy the city.
"Biking allows you to enjoy the scenery and go at a pace where you can absorb what's going on and we have some great off-road bike paths where families can meander through our wonderful natural environment," Ms Johns says.
She says the city's Biking Plan is dedicated to making biking a bigger part of the way Hamiltonians get around the city, and among recent initiatives is the introduction of social group rides.
"These group rides are a great way to 'unlock your love of biking' in a supportive and engaging team environment. There are several groups across the city who venture out on a weekly basis, catering for beginner to experienced riders and everyone in between, exploring Hamilton's river paths and more.
"We've got around 30km of stunning river paths along the Waikato River, as well as the recently-built Western Rail Trail. The award-winning trail travels along the rail corridor from Kahikatea Drive, around the west of Lake Rotoroa to Norris Ward Park in the central city. The trail features a rail history theme and interpretive signage exploring Frankton's heritage and current landscape. Pack a picnic and enjoy lunch at Innes Common where there are drinking fountains, rubbish bins, bike fix-it stations, seating and tables," Ms Johns says.
"Last year NZ Transport Agency completed the Cobham Drive underpass, which offers a safe way for people on bikes to cross Cobham Drive from Hamilton East and link with paths to enjoy the world-renowned Hamilton Gardens or perhaps a special celebration at Gourmet in the Gardens," Ms Johns says.
"Hamilton's landscape is ideal for biking, it's relatively flat and there's a total of around 150km of on and off-road bike paths and cycle lanes. Whether you ride for fitness, or just enjoy exploring our city on a bike, we would love people to be involved and help inspire others.
"We're adding more connections to our city's biking network in 2018 and it's a great time for people to see what our city has to offer from two wheels."
For more information on Hamilton's Biking Plan, or upcoming social or group ride activities, see www.hamilton.govt.nz/bikingplan.