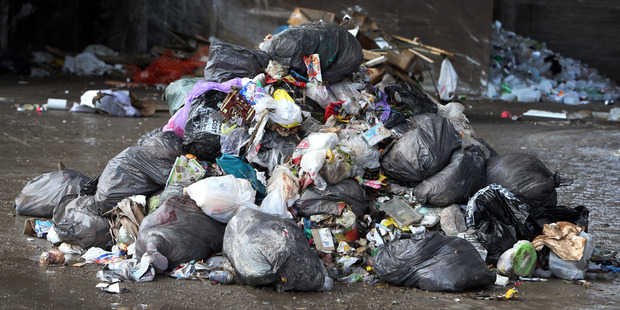 Hamilton City Council's proposed plan to manage and reduce rubbish in the city is now open for public feedback.
Hamilton residents will have until Sunday November 19 to have their say on the 2018-2024 Waste Management and Minimisation Plan.
The target for the council is to have recycling and waste minimisation to become a natural process.
Rather than throwing plastic into rubbish bins, Councillor Mark Bunting wants people to care more about the environment.
He said the plan is about making a behavioural change within the community.
"We want to make it so the community wants to and can do the right thing about the environment," Cr Bunting said.
The council is required by law to review and update the current Waste Management and Minimisation plan by April 2018.
The draft Waste Plan sets per capita targets, and by 2024 the Waste Plan proposes to have a five per cent reduction in rubbish to landfill, an increase in diversion of material from landfill by 10 per cent, a 10 per cent reduction in kerbside collection rubbish to landfill and a 10 per cent increase in kerbside recycling.
The plan will also look to work with local festivals in Hamilton and get them involved in minimising waste.
"We sent an email to four different festivals that were coming up and within half an hour we had a response from all them."
"People are really into it and there is a wave coming, so as long as we don't get too crazy about it we think we have a very good opportunity to make us a good green space."
Hamilton City Council is also currently in the process of organising a contract for the kerbside wheelie bins.
Earlier in the year Council had an overwhelming amount of support for the change to wheelie bins.
The current rubbish bins contract expires in 2019.
The wheelie bins will be split into categories with one for recycling and one for rubbish. The current small blue box will be retained for glass recycling.
Chair of the Waste Taskforce Cr Mark Bunting says he's really excited about the opportunity for Hamilton to become very progressive in how it manages its waste.
"As a Council we shouldn't be setting rules and wagging our fingers at people, nagging them into doing the right thing. We should be as encouraging as we can and provide systems and incentives that make it easy for the community to reduce, recycle and reuse."
"I am absolutely convinced the community wants to do the right thing. It's up to us to do our bit and make it as easy as possible. We have the right staff, the right plan, the right attitude and the right community. We will get the right result," Cr Bunting said.
To support the Waste Plan, Hamiltonians have the chance to apply for the Waste Minimisation Contestable Fund. The Fund is available to support waste minimisation projects to encourage community participation, education and benefit Hamiltonians by leading to long-term waste minimisation action and behaviour change.