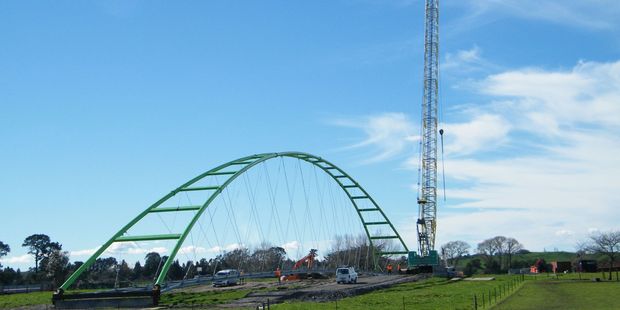 The final and the most obvious part of the Ngaruawahia to Horotiu section of the Te Awa Great River Ride is scheduled to be put in place in the next few weeks, according to Brian Perry Charitable Trust general manager Jennifer Palmer.
The bright green, 130m, $1.3 million pedestrian and cycle 'Perry' bridge will complete the Ngaruawahia to Horotiu section of the route.
The Te Awa river walk and cycleway begins at Ngaruawahia and follows the river behind the Ngaruawahia Golf Course. However original plans to continue through to the Horotiu bridge on the western side of the river came unstuck when the Te Awa River Ride Trust was unable to obtain permission to build the cycleway on land at Horotiu owned by meat processor Affco.
The solution was a detour across the river, by way of the bridge, where the pathway continues on the eastern side along the edge of the former Hamilton landfill site to the Horotiu bridge where it transfers back to the western edge of the river and on into Hamilton.
Palmer said the path on the eastern side was nearing completion and following lifting of the bridge into place by a large crane an official opening for 7.5km section was likely in late October.
"We want the opening to be something special with prizes and celebrities. This is the most significant piece of infrastructure on the whole cycleway."
The total cost of the stretch was $4.7 million of which $2.7 million came from the NZ Transport Agency.
The whole Te Awa shared pedestrian and cycleway will ultimately travel 70km from Ngaruawahia to Horohoro - 20km past Karapiro.
The sections from Horotiu, through Hamilton have been completed. The section from the Avantidrome to Cambridge and from Cambridge to Karapiro have been completed.
The route for the final section from the Hamilton Gardens to the Avantidrome is currently under consideration by Hamilton City and Waikato and Waipa District Councils.
"We are really close to the confirmation of a route. This will be a three-year project costing about $12 million and requiring a lot of fund raising. It should be completed 2020-21," Palmer said.

The Brian Perry Charitable Trust has provided operational, management and funding support for the project.
Other funders include the Waikato District Council, NZ Community Trust, Lion Foundation, Trust Waikato, Wel Energy Trust, Perry Group, Trillian Trust and Grass Roots trust.