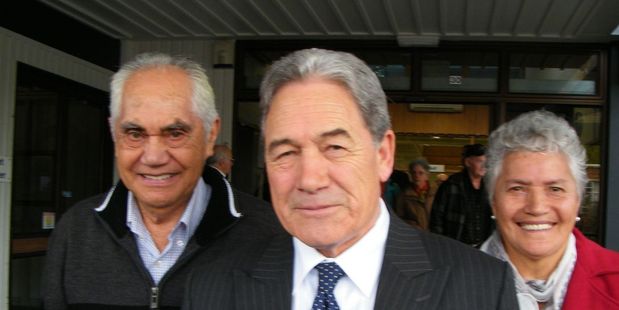 Political veteran and New Zealand First party leader Winston Peters was in good humour and election mood in a meeting with senior citizens in Hamilton's Celebrating Age Centre on Monday.
Part-way through a whistle-stop election-year tour of the country Peter's was invited to speak by Hamilton Grey Power.
Local Grey Power president Roger Hennebrystarted the morning off by talking about the cost of health care to the older population, in particular glasses, hearing aids, dentistry and elective surgery. Hennebry pointed out that Grey Power had 65,000 members and superannuitants as a group - about 600,000 - had significant power to make a difference if they voted.
Accompanied by New Zealand First MP Pita Paraone, and Waikato candidate and regional councillor Stu Husband, Peter's headed for every contentious issue he could find.
During the meeting, elements of New Zealand First's election policies were announced including a renewed commitment to home insulation, unaffordable housing especially in Auckland, which was affecting the availability and cost of housing in nearby regions like Hamilton and the way large Australian-controlled banks were creaming off a fortune in fees from KiwiSaver.
Those things that were of immediate interest to the older audience included fears about sustainability of National Superannuation and mass immigration - topics which drew applause from the crowd.
"They say National Super is not affordable as it is but currently the cost of super is equivalent to 3.8 per cent of GDP. I know nations were it is 9 per cent. If we can double GDP by 2050 we can afford it," he said.
Peters said mass immigration - a net of 73,000 people in one year, was placing huge stress national services including health and education.
"Auckland has a massive housing crisis and it's spilling into the regions. We need to reduce immigration and build more houses. We're not opposed to immigration but we should be bringing in people who we need, not the people who need us."
When it came to the health of older people, Peters said NZ First policy offered three doctors visits a year as a means of encouraging older people to use health services and head off medical problems, that if left untreated, could lead to expensive hospital treatment. As 1.7 million New Zealanders suffered from macular degeneration - a common form of visual impairment especially among older people - NZ First also offered one free consultation a year related to visual health.
"If we get one person in 100 to take up the offer our calculations show the policy would be cost neutral. If we got two in 100 we would making big savings."
On the local front Peters took a swipe at the Waikato Regional Council's policies which he said were hampering agriculture - "the future and the life blood of the Waikato," - and plans to allow large companies to sell Putaruru spring water which they got almost for free.
Peters hammered what he sees as a growing trend to 'separatism' and creation of differing laws for Maori and other citizens.
Mr Hennebry invited the audience to return at 10.30am July 17 to hear Green Party seniors spokesman Barry Coates. There would also be a presentation of the Waikato Regional Council's long term plan on Monday July 24.