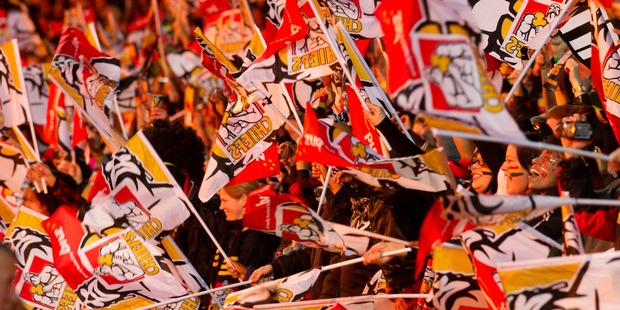 The time has almost come for Waikato rugby stalwarts the Chiefs to face the British and Irish Lions.
The DHL New Zealand Lions Series 2017 will arrive at Hamilton's FMG Stadium Waikato on Tuesday, June 20.
There are currently fewer than 100 tickets to watch the game remaining from nzlionsseries17.com
However, Hamilton City Council has announced that Claudelands Arena will serve as the site of a free Fan Zone during the Chiefs' first ever face-off with the Lions.
The British and Irish team tours New Zealand every 12 years, and this year's instalment is expected to be one of Hamilton's biggest sporting events of the year.
Council's major events director, Chad Hooker, said the experience in Hamilton will go beyond the game itself, including community engagement like the Fan Zone at Claudelands.
"We wanted to make sure people could enjoy the thrill of this historic game even if they were not able to get along to FMG Stadium Waikato," Mr Hooker said.
"So we have planned a family-friendly Fan Zone at Claudelands, where people can enjoy a live broadcast of the match on the big screen and share in the excitement with other fans."
Members of the public will have free entry to the Fan Zone to enjoy live entertainment, giveaways, and food and beverages for sale, as well as the game itself.
There will also be an alcohol-free area for families and a special themed installation called Home Turf.
Prospective patrons can find a Fan Zone event listing on the Claudelands Arena Facebook page.
Chiefs Gala Dinner
Preceding the event, the Chiefs Rugby Club has teamed up with All Blacks Hospitality and Hamilton City Council to put on a Chiefs Gala Dinner on 19 June.
"I am thrilled that the Chiefs Rugby Club, alongside its event partners, is able to mark this historic occasion with an event of this quality," Chiefs Rugby Club CEO Andrew Flexman said.
Among those attending the event will be Hamilton-born Lions head coach Warren Gatland and Chiefs head coach Dave Rennie, who will take part in a question and answer session hosted by Scotty Stevenson.
Former All Blacks Grant Fox and Mils Muliaina, and former Lions Gavin Hastings and Will Greenwood will also be giving speeches.
"The combination of the Gallagher Chiefs v British and Irish Lions match and the array of activities happening around the game will make for a truly special time for the people of our region," Mr Flexman said.
"We hope that the Chiefs Gala Dinner will add to the rich tapestry of British and Irish Lions tours."
The Chiefs Gala Dinner will also raise funds for the Ronald McDonald House charity, with live and silent auctions being conducted by the Harcourts Foundation.
Packages to this special event, with premium food and beverages served during the evening, start from $299 per person.
For further information and to secure seats to this evening of rugby, search 'Chiefs Gala Dinner' at visithamilton.co.nz