A body has been found in Kim Richmond's car, pulled out of Lake Arapuni this morning.
Police found missing woman's vehicle at Lake Arapuni yesterday, where the National Police Dive Squad was searching as part of the investigation into her mysterious disappearance a year ago.
Detective Senior Sergeant Ross Patterson confirmed a body was inside.
"The identity of that person is not confirmed yet. That body will go to Auckland for a post-mortem [examination] tomorrow."
When asked about whether any foul play may have been involved, Patterson declined to comment.
Patterson said they reviewed the investigation into Richmond's disappearance "and there were some areas that we wanted to check and make sure that all areas had been done. It's because of this new search that we were able to find the ute."
Divers found the vehicle in 6m deep water, which had poor visibility.
It was draped in weeds as it was pulled out from the water by a crane just before midday today. How the vehicle came to end up in the water would be a focus of the investigation.
Several police were on hand as the delicate procedure was carried out.
Police said Richmond's family has been informed.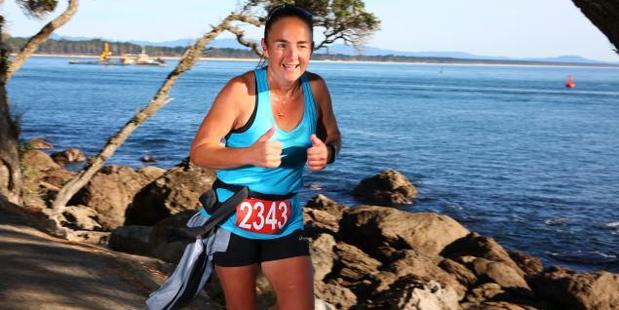 Yesterday afternoon police cordoned off the entrance to Arapuni Landing on Arapuni Lake Rd and Waikato CIB Detective Senior Sergeant Patterson announced a major development in the 11-month-old case - the discovery of the silver Ford Ranger ute Richmond was believed to have been driving on the night of her disappearance.
A crane pulled Richmond's vehicle out of the water about 11.45am today.
Richmond disappeared from her home on the morning of July 31 last year.
When interviewed at Lake Arapuni on Tuesday, Patterson said the dive squad was searching areas of the lake "that require further investigation": mainly areas where a vehicle could have been driven into the water.
"Despite our extensive inquiry we still hope to find her, though we now believe she is dead," he said.
Thirteen dive staff were searching parts of the 9sq km lake with support from police, a Waikato Regional Council Harbourmaster vessel and Mercury Energy craft.
Richmond and her partner Corey Jefferies had been at a social at the Arohena Hall on the night of July 30.
Some time in the morning Richmond drove off in her ute and she hasn't been seen since.
Adding to the mystery was the discovery of Richmond's bank cards in the Turangi region last October.