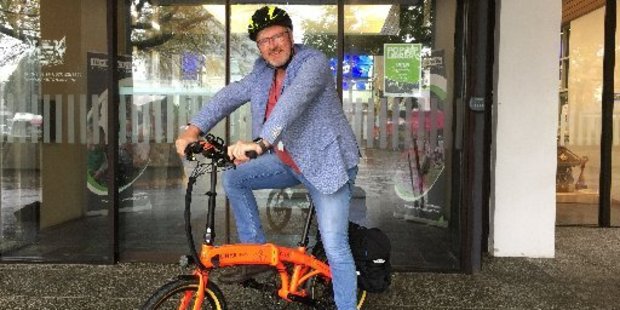 In an effort to lead by example, Hamilton City Councillor Mark Bunting has taken to using an e-bike to conduct his daily errands.
Mr Bunting said he came across the temptation to get an e-bike when he noticed his neighbours across their road, in their late 60s, were keeping fit and cycling every day.
They had been on a tour of the South Island, cycling many mountainous tracks, and told him they had noticed a lot of people were riding e-bikes and being able to make it up steep slopes with ease.
"Then I got talking to people at the Council about it," Bunting said.
"They've got a fleet of about six of them downstairs. Councillor Dave Macpherson, and I know deputy mayor Martin Gallagher's used them as well. They go over to the DHB on them and things like that. Councillors and staff can rent them out and are encouraged to do that."
Bunting was able to test one of the e-bikes. He took it on a circuit around Civic Square outside the Council buildings and Centre Place Shopping Centre, and he was hooked.
"I loved it.
It was cool and I thought, 'I've got to get one of these.'"
He headed to Velo Workshop in Frankton and bought a sprightly looking orange e-bike, made on Waiheke Island, for $2000.
"I've not regretted it once. It's been amazing. I reckon if I can save $50 a week on petrol, within two years it's going to be all paid for," Bunting said.
The prices of e-bikes are bound to decrease in the coming years as they become a more common part of the urban infrastructural vernacular. Bunting looks forward to the range of styles and sizes diversifying, too, and making e-bikes a viable option for a wider range of people.
"There are some bigger, faster ones than what I've got, but I thought, 'Ya know what, it looks a bit silly,' and I figured if you're going to go e-bike, you go e-bike proud," he said.
Contrary to what he may say, Bunting's new e-bike catches the eye of many members of the public, particularly when people notice how fast he is able to travel - much faster than by pedalling alone.
E-bikes only take a couple of initial circulations on the pedals before the built-in motor driven by a lithium battery takes over to power the wheels.
Bunting is happy that his e-bike even has a phone charger attached to it.
"I can cruise for two hours and not sweat - so for someone who's working, it's ideal," he said.
"But last night, honestly, I got home in 10 minutes. Easy as."
Bunting said he would like to encourage the use of e-bikes more through Council initiatives, which already include one seeking to link cycleways between schools in Hamilton East.
He also wants to see cycle lanes or clip-ons added to the Claudelands Bridge, so that people could bike across to the city more safely, and even connect with the new Western Rail Trail.
"It's becoming so much part of the vernacular now that when we're talking about mooting the Garden Place carpark in Council, I'm going to insist we have e-bike solar-powered chargers there," he said.
"It's a greeny's fantasy really, isn't it? Everyone knows cycling is the right thing to do, but not many people do it. So I can't really go into Council and encourage people to do something that I wouldn't do myself. That's part of the reason why I've bought an e-bike."
What is an e-bike?
An e-bike is a bicycle with an integrated electric motor which can be used for propulsion. Some have a small motor to assist the rider's pedal-power, whereas others provide moped-style functionality. The rider is still able to pedal the bike as much as they wish.
E-bikes use rechargeable batteries and the lighter varieties can travel up to 25 to 32 kph, while higher-powered varieties can often do in excess of 45 kph.