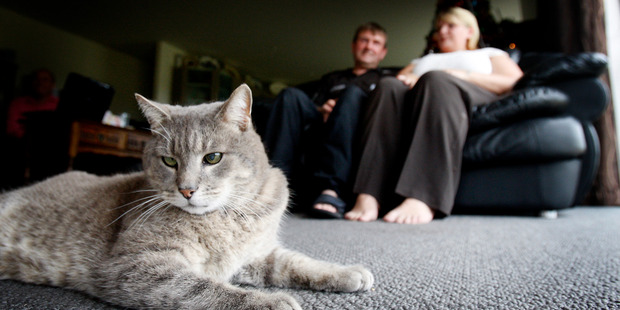 Smokey, the former Waikato Hospital resident cat with hundreds of followers on his own Facebook page, has died after enjoying a long retirement in Rotorua.
Now he is returning home, with Smokey's ashes to be interred next week in a special spot at the hospital. Smokey spent most of his 22 years comforting sick and dying patients at Waikato Hospital where the friendly tabby was known to lie with patients in their final hours.
He had to leave the hospital in 2010 after developing his own health issues and went to live in the Rotorua countryside with Garry and Anna Simmons and their family.
Garry, a hospital attendant, and Anna, a staff nurse, fell in love with Smokey when they started work at the hospital after moving from England. They offered him a retirement home when he became too ill to continue living at the hospital.
But they never saw themselves as Smokey's new owners, only as his guardians and are happy to see him "going home" after being cremated.
In a Facebook post Anna says, "Garry and I would like to thank everyone for their kind messages after the loss of Smokey. We are slowly reading through them and feel truly blessed that we were the chosen ones to have such an amazing and special cat to be a part of our lives. We will all miss him dearly."
Donna Straiton, personal assistant to the Waikato District Health Board chief executive, said Smokey's ashes will be interred in a specially chosen spot by the band rotunda near the Hockin Building at Waikato Hospital at 11am on Friday, 28 April.
"We chose this spot as it is a quiet contemplative area of the hospital and an area where there won't be any construction for at least the next 15 years, she said.