Hamilton's Nivara Lounge, Creative Waikato and Embassy Park were pumped full of life on March 3 and 4, as Future City Festival came to fruition at last, following months of extensive planning. Reporter Gary Farrow got amongst it to experience what it was all about.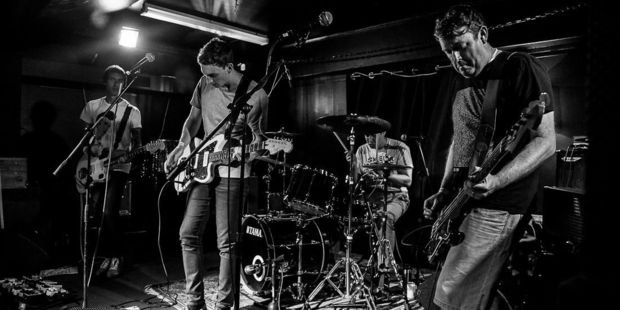 Nivara Lounge on Victoria Street in the CBD was already humming with activity when I turned up there for 9pm on Friday March 3 after a busy day.
A few acts had already performed there, as well as at Creative Waikato's art space, a block away on Alexandra Street.
I and scores of other eager punters made the short walk between venues many times to hear consecutive artists playing their music.
Hamilton shoegaze band (the kind that plays while staring down at their arsenal of guitar pedals) Ancient Tapes opened up that first night for me, my favourite local musicians since I moved to the city five months ago. But I had only heard their recordings - I hadn't seen them live yet - and what a great time it was, hearing the cosy Nivara Lounge filled up with their wall of shredding sound.
Next up, the crowd made the procession to Creative Waikato to watch Katikati three-piece Threat.Meet.Protocol in the tastefully lit space, with a specially designed Future City animation projected on to the wall behind the band, making for a great atmosphere.
After that, it was back to Nivara Lounge to see emotive Auckland indie duo Carb on Carb.
By this point, the audience's ear drums were getting a good workout, and many realised that Hamilton Underground Press' prior recommendation to wear ear plugs was certainly one to be heeded.
The night was then closed off by two more Waikato bands - Wizz Kids and The Hollow Grinders.
The next day, Saturday, was when festivities began at 1.30pm before carrying on until about 11.30pm.
Although this required a degree of endurance - punters who wanted to see all 17 bands playing at Nivara Lounge and Creative Waikato that day would have to walk between the venues many times - the pacing of the festival was superb, making it that bit easier.
In the evening, more artists played free sets in Embassy Park, where the Riff Raff Statue stands, intended to spread some of the experience outside the venues, to share it with the city, and maybe to attract some more punters into the indoor shows.
We never spent much time standing around - one band would finish, you would walk five minutes to the other venue, and the next band would start playing virtually straight away.
Also, Nivara Lounge was the only venue selling drinks, which probably helped a lot of people drink conservatively and be able to withstand the heat and length of the day better - not to mention enjoy the performances that bit more.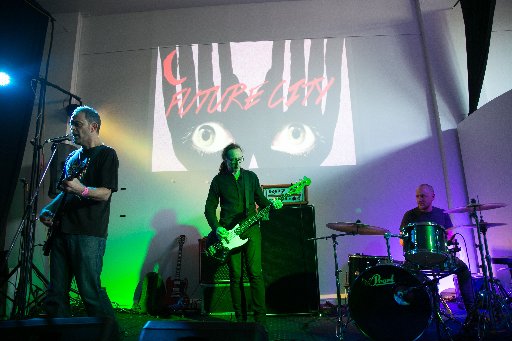 Another Hamilton band, Date Month Year, was a highlight of day two, defined by harmony, melody and personality in welcome spades.
Half Eaten Pie, high school boys with a huge and well-honed sound, were a hit with the audience, the memory of which they kept recounting all day.
Celebrity Death Hoax showed off some gloriously unnerving theatrics as the night got older.
Nearing the end of the day, Alexa Dexa from New York was the absolute favourite of many.
Playing her toy piano, pitched desk bells and programmed beats while singing and sitting cross-legged on the stage, she managed to have the whole of Nivara Lounge entranced, with many choosing to sit on the floor cross-legged as well, as they listened to her unique, intimate sound.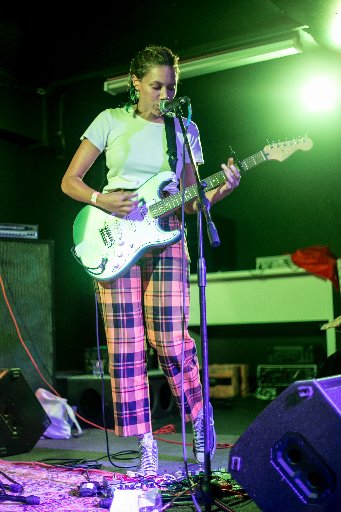 Future City Festival shone as a towering achievement to everyone I've spoken to who attended.
It illustrated just how immersive and enjoyable an event can be brought about with hard work from Hamilton Underground Press, Rob Shirlow and the scores of people who helped the event become a reality.
Artistic secrets of Hamilton were unlocked, not to mention numerous out-of-town and international acts among the 27 who played.
Future City Festival is a rich artistic experience - and with the inauguration it just pulled off, I hope it's back next year.
Hamilton deserves a fantastic alternative music event like this as much as any city.
- Thanks to Ngamihi Pawa for sharing the photos that she took for organisers Hamilton Underground Press.