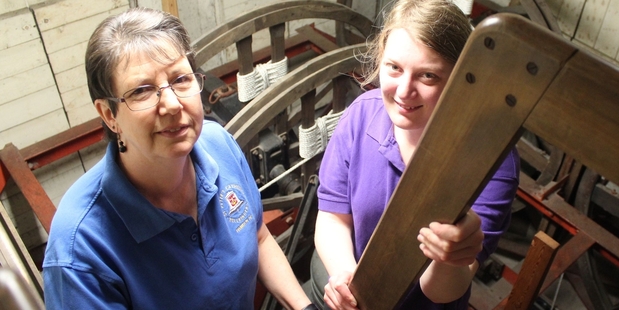 Church bells will be heard chiming in Hamilton for much of the day on Saturday, December 10, as St Peter's Cathedral celebrates its centenary with a day of events.
Members of the public will have a chance to ring the bells themselves - and it doesn't require the strength you might think, said experienced bellringer Mary Sluter.
"We always tell people it's 95 per cent technique and 5 per cent muscle power," she said.
"Basically, the physical qualifications to ring a bell is you need to be able to climb the tower stairs. Hamilton is fairly low, there's only 23 stairs - and you need to be able to raise both arms above your head with unrestricted shoulder movement."
Younger children or older people who cannot climb the stairs will be equally welcome to enter the centre of the cathedral and ring the hand bells there.
At present, St Peter's has a number of regular bellringers, the youngest being 11 years old and the oldest 80.
As for the church bells themselves, Sluter said they are relatively new, having been installed in Hamilton in 1950.
"I learned to ring in the UK, and at the church we were ringing at, the bells had been installed in the 1700s - so to us the Hamilton bells are new," said Sluter.
While St Peter's doesn't encourage children to start ringing before the age of 10 - due to coordination skills rather than muscle power - Sluter has been involved for a long time herself.
"I did actually start when I was nine, so next year I've been ringing for 49 years."
Sluter said there are more than 5000 sets of church bells in towers in England.
By comparison, there are only six towers with bells hung for ringing in New Zealand, making St Peter's in Hamilton even more special.
The day celebrating the cathedral's centenary will begin in the morning with a three-hour peal - continuous ringing - in recognition of the existing bellringers.
Then, in the afternoon, the cathedral and tower will be open to the public to have a go ringing the church bells or chiming the hand bells.
Sluter said St Peter's Cathedral is always looking for new bellringers, and anyone can apply.