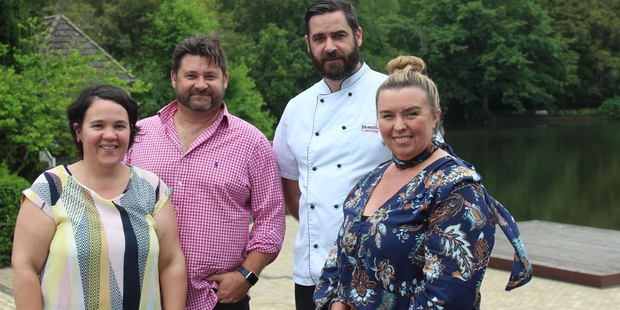 Hospitality businesses from around Hamilton are coming together in support of the Red Cross Kaikoura Earthquake Appeal by putting on an event this month.
Kai for Kaikoura, spearheaded by Waikato Food Inc, will take place on the banks of Turtle Lake at the Hamilton Gardens on Tuesday, December 13.
More than 200 diners will be treated to a four-course lunch, including a glass of wine or beer, for $50 per ticket, with all proceeds being donated.
"Leanne Morris from The Event Company approached me and said that she thought putting on a bit of a fundraiser for earthquake relief in Kaikoura would be a great idea," said Waikato Food Inc chairperson Vicki Ravlich-Horan.
"She said she'd be happy to help organise it if we got on board."
Ravlich-Horan agreed to the venture as a good way of bringing local food and hospitality businesses together for a great cause.
"Pretty much in a week we've cobbled together a four-course lunch. All the food's donated from local businesses and sponsors," she said.
Hamilton Gardens have allowed the teams behind Kai for Kaikoura to use the space and lawns surrounding Turtle Lake for free.
The food, labour, cutlery, plates, glasses, linen and entertainment will also be provided free of charge, with all money from tickets being donated to the Red Cross Kaikoura Earthquake Appeal.
It is expected that $10,000 to $15,000 will be raised at the event.
Ravlich-Horan said this joint venture speaks well of how the hospitality industry is integrated into communities as an institution, given they are dropping what they are doing in the busy holiday season to help Kaikoura.
"I think hospitality businesses especially understand that even the loss of electricity for a day, even because a car ploughs into a pylon or whatever, there's a massive effect on your business, so imagine what an earthquake or a natural disaster actually does to a community," she said.
"Food's a wonderful thing to bring people together, so while it's a tough business to be in, all our people are in this business to be hospitable. That's about caring about getting people round a table, having good times and enjoying things. If we can create that for a great cause as well, that's brilliant."
Tickets are available at eventfinda.co.nz, and tables of eight or 10 can be booked.