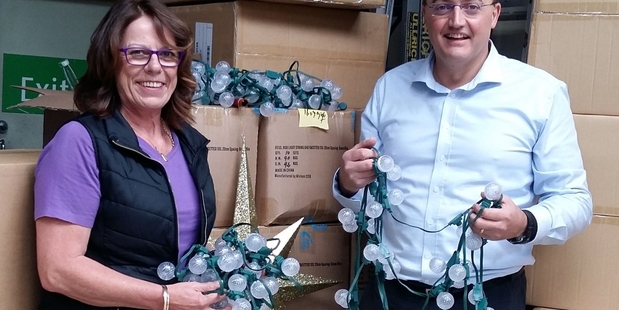 Hamilton's famous Christmas Tree will be installed in Garden Place for the ninth year running this December - and it will be resplendent with new lights.
"We're excited to be turning on a brand new lighting system, not seen in New Zealand before," said Hamilton Christmas Charitable Trust chairperson Simon Scott.
The tree's original lighting had its elements replaced for the past three to four years, with companies InDeserve responsible for the lighting, and A-Z Rigging building the tree.
But last year the trust decided to replace all the lighting with more up-to-date and robust hardware, at a cost of $130,000.
"We are very thankful to the Grassroots Trust and Glenice and John Gallagher Foundation for funding the new lights," said Scott.
The system is computer controlled, allowing the operators to change it between a variety of flashing themes, casting images, video effects, logos, text and effects, as well as having the ability to synchronise the lights with live music and sounds.
As it is the first year of using the technology, the Trust has decided to keep things simple, using one pattern this year and then changing it in 2018, introducing new elements each year.
The tree lights will be switched on for the first time on December 3, with mayor Andrew King, Simon Scott and a child doing the honours.
A concert featuring a brass band, gospel choir and various Christmas singers will start at 7.30pm, and play until the lights are switched on at 9pm.