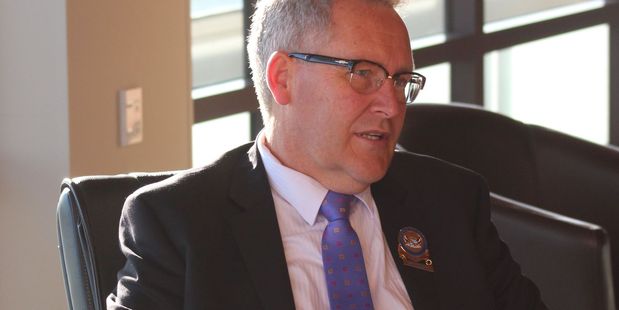 It has cost Hamilton City Council $500,000 to fight an appeal to the District Plan brought by mayor Andrew King's family trust.
The final outstanding appeal was this week dismissed in the Environment Court.
A requirement under the Resource Management Act, the District Plan governs the way the city looks and feels, and sets the rules for future city development.
A&A King Family Trust, of which Mayor Andrew King is a beneficiary, submitted two appeals. The first related to changes to the industrial zone that would allow for general retail activities, and was settled out of court. The trust's second appeal sought a change to planning provisions for a site on the corner of Killarney Road and Greenwood Street, to allow for the site to be used for a range of uses, including retail and office development.
The area the site is on is zoned industrial, meaning retail and office uses are not provided for.
In a decision released this week, the Environment Court dismissed the trust's second appeal. The decision can be viewed on the Council's website.
Hamilton City Council chief executive Richard Briggs told Hamilton News that "from a District Plan point of view my team have done an absolutely amazing job in terms of the whole district plan, so there's a degree of relief now that we've got a clear district plan and have finished the process, so that's really positive."
King said it was his right to make the appeal.
"The District Plan process is designed around appeals, and this tension is importance," said King.
"This is part of anyone's right to appeal the District Plan when it comes out once every 10 years, so I took that opportunity when I was still a councillor; even before that - the process started before I was even part of Council."
King said the appeal was "based around common sense, it was based around 13 titles where I, by rights, was allowed to put 13 different crossings on to the state highway and on to Killarney Road".
"I wanted to have three crossings as far away from the traffic lights as possible and have an integrated development, and as part of that wanted to introduce some retail as well, which I believe was a better outcome for the city, a better outcome for the tenants, and a better outcome for me as a landlord."
King said he accepted the Environment Court's decision.
"I just want to move forward constructively from here."
Briggs said he was working through the decision and has asked the Council's legal advisors to give their views on whether the organisation should seek costs.
He said the decision around costs sits with Council, so he and city planning manager Luke O'Dwyer would prepare a report to table at next Wednesday's full council meeting where elected members would debate the issue.
"The report will be an open and there will be an opportunity for councillors to debate and discuss the district plan as a whole and where we got to, as well as look at the individual appeal from the A & A King Trust and whether or not Council want to seek costs.
"We support the decisions of the Court and the judge and we're really excited to put all the hard work around preparing this plan behind us and now focus on affecting the plan through our functions."
When Hamilton News asked King whether he would be covering the final appeal costs for Council, amounting to around $500,000, he said he will not be offering compensation, although he is disappinted the city has incurred the costs.
"The judge basically said that the appeal was professional and had merit, so the costs lay where they fall, and I totally agree with that. It would be a brave or silly person that should try and go for costs, because you'll be going against what the judge has recommended."
Briggs said it was normal for there to be an appeal process when something as important as a District Plan is released.
He said the final appeal's costs were "made up of economic and transport analysis, lawyers and staff time".
The District Plan Review has been a six-year process, beginning in January 2010.