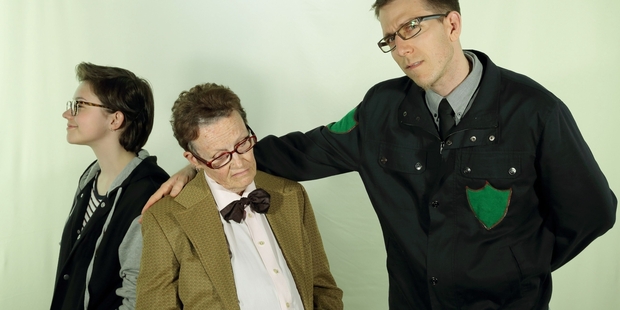 Preparations for this year's Christmas production at Hamilton Central Baptist Church are well underway.
Night at the Museum: The Scroll & the Crown draws characters and general themes from the namesake film trilogy, while adding a Christmas theme.
"My co-director Cherie Lockley and I came up with the idea and started writing it in January of this year," said worship director Janene Forlong.
The Scroll & the Crown takes familiar characters from Night at the Museum - Larry Daley, his son Nicky and museum manager Dr McPhee - and puts them in a new situation involving the Israel Museum of Natural History and the exhibit of the Birth of Christ.
The Daleys travel to Israel to find out how the melancholic McPhee has created the interactive exhibition.
"They think they're going over there to find out how he's done this," said Forlong. "They think this is so exciting, but they get there and Dr McPhee's all melancholic, saying they've had to close the museum, everything's gone wrong and they need to work out what's going on."
The idea of interactive night-time exhibitions at museums is turned on its head when it emerges the Israel Museum of Natural History's large Birth of Christ exhibition is coming to life during the day.
"The big question is, if the tablet of Akmenrah did not bring these exhibits to life, then what did?" said Forlong. "Instead of just the traditional Mary and Joseph and the Three Wise Men and the shepherds we've got other characters like King Herod, so you're looking a little bit earlier in the Bible story, where King Herod actually was pretty mad about this new king the Jews were getting excited about and that he was the promised saviour."
Baby Jesus' life is put in danger, so the mystery must be solved soon. As if that were not enough, Dexter the capuchin monkey nips off with the scrolls, and King Herod steals the crown.
The production features traditional Christmas carols along with dancing to modern music including Michael Jackson's Bad which Forlong said is particularly fitting for the character of King Herod.
About 60 people are involved in the production, including actors, musicians, extras, tech support and wardrobe.
Night at the Museum: The Scroll & the Crown is a family event, containing material suitable for all ages. Entry is free, though any donations are appreciated.
It will take place at Hamilton Central Baptist Church on December 16 at 7pm, and December 17 and 18 at 6pm.