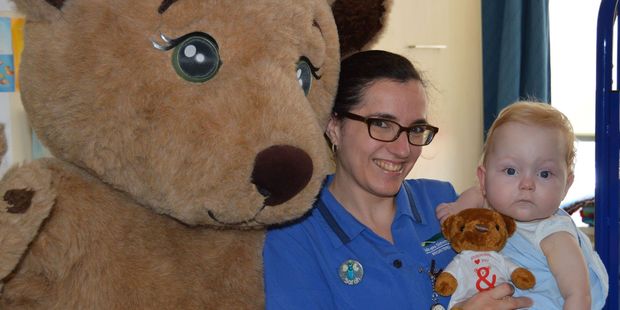 Sick children undergoing surgery in Waikato Hospital were comforted this week with the arrival of hundreds of teddy bears to the pediatric wards.
The phil&teddy bears are part of a joint venture between the Surgical Research Trust and juvenile products company phil&teds.
Childrenwere given a teddy bear for comfort at a stressful time. Surgeons can also use the bears as a prop when explaining procedures to children before operations which makes the whole process more 'bearable'. The phil&teddy is theirs to adopt, name and take home.
This is the first launch of a new batch of bears.
"We're so grateful and fortunate to have phil&teds as our key sponsor of the Surgical Research Trust," said Grant Kiddle, Trust chair.
"Two hundred bears have been donated to help young children at Waikato Hospital get through the emotional stress of surgery. Not only does it cheer up the child undergoing surgery but it has a positive flow on effect for families and staff facing the surgical procedures ahead."
Campbell Gower, chief executive of phil&teds, is delighted his company is part of the initiative.
"We love the dual benefit of providing a hospital friend for the child undergoing surgery and financial support to the Trust for education and research. We're committed to funding projects that genuinely help the New Zealand community and medical world."
"These bears are so much more than a cute cuddle toy for children in hospital in our Waikids wards," said Waikato DHB pediatric play specialist Suzanne Minns. "They provide a form of recovery through smiles and comfort which helps take part of the fear away from being in hospital.
The programme has been in place for four years with bears distributed in hospitals in the wider Wellington region, Christchurch and the Waikato.
The Trust has funded more than 90 research projects since it was established, including research into areas such as pediatrics, diabetes, orthopaedics and heart, renal and brain disease.