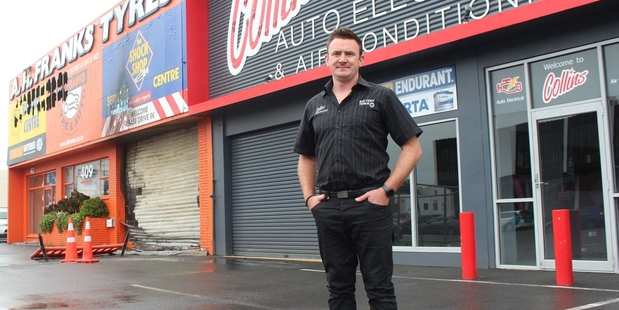 Jason Land, his family and his business are thanking their lucky stars after last month's fire in the adjoining AH Franks Tyres building came breathtakingly close to destroying Collins Auto Electrical and everything their premises contained.
"We've actually got no damage inside at all - just that adjoining wall is the unknown part," said Collins Auto Electrical owner Jason Land.
A cardboard box that was sitting on a wooden bench against the wall in the workshop was found to have started being singed. Land said the wall was very warm to the touch, even after the blaze had been isolated next door.
Collins Auto Electrical was not affected by the previous fire at AH Franks two years ago, as it was in a different part of the property at that time.
However, this event was more severe. The iron beams in the roof next door have been twisted like pasta, and the iron pillars holding up the wall between the two premises have also changed shape in the heat.
Although they are grateful, Land, his family and his business are now in limbo.
"We can't move out, because obviously we've still got a lease with the landlord and if the building is proven to be structurally safe, that lease is still binding," he said.
"But we also can't be here in case they want to do demolition [next door], so it's a weird situation to be in."
The demolition of the other half of the building was meant to start on November 7, but the owners of AH Franks are still waiting on insurers to approve it, meaning the path is set for this to be a long process.
"We're very lucky in that instance that there's just no material damage at all," said Land.
"A good friend of mine has got a company where he works on motorsport cars, so he's shifted that out of the factory in Duke Street to make some room for us which is fantastic."
Collins Auto Electrical have also been given temporary use of another premises by a friend, meaning seven of the company's technicians can be kept busy.
However, the financial implications of the fire are far reaching. Land said his business was running at 35 to 50 per cent of its usual capacity.
A lot of their custom usually comes from the exposure the workshop gets on Anglesea Street, said Land. Now that's all up in the air.
Collins Auto Electrical will likely not know of its fate until in the new year, as it may not be until then that they find out whether the central fire wall of their factory is salvageable and can be propped up in order to retain the structure.
Land said there is no way insurance can measure the financial losses that are going to be made by his business. If the building needs to be demolished and the company has to move somewhere else in Hamilton, he said it would be hard to attract the same level of custom as being so near the centre of the city.
"For us there's nowhere in town that's going to be the same exposure as what we've got, with the same profile and the same size. It's not going to be easy to find a building like this in this area," he said.
"Your business is your livelihood. It's where you make your money to put food on the table.
"Also, we've got 10 people that we employ - their lives have been impacted on as well.
"We're lucky that they understand, they know they're going to get paid, and they know it's all good, but that's 10 other families that have been impacted."
Land said he is grateful that fire appliances arrived on the scene so early, allowing Collins Auto Electrical to take all of their property out of their building, as well as many of the cars on site.