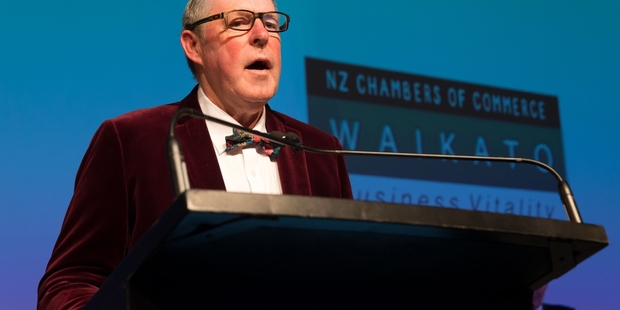 The winners at the Westpac Waikato Business Awards were announced at a gala dinner last Friday at Claudelands Event Centre, along with the inaugural laureate to the Waikato Business Hall of Fame.
More than 600 people from the Waikato business community attended the event.
"It is tonight that we as a business community come together to support, encourage and celebrate those among us that have understood the importance of what they do in business every day, not just for our region, but also for our country," said Waikato Chamber of Commerce chief executive William Durning.
Durning said the Waikato is a critical part of the success of business in New Zealand and this was supported by the extensive range and quality of those business and business leaders that were recognised at the sold-out event.
He said businesses that participated in the awards benefited in several ways - those that made the finals and the category winners have had their business profiles raised, strengthening existing commercial relationships and laying the groundwork for new relationships to develop.
"All participants have benefited from the process of articulating the specific attributes and processes of what they do, thereby helping them to consistently grow and develop," Durning said.
Participating businesses also receive feedback from the judge's panel, which gives these businesses points to work on for future planning, adding value to them as well as the overall region's economy.
The supreme business of the year went to Hobbiton movie set.
"The intense competition, quality of entries coupled by the fact that the judges deliberated long and hard over selecting winners should give great pride to Russell Alexander and all the team from Hobbiton Movie Set," said Durning.
"Hobbiton has re-directed tourism flows in New Zealand and catapulted Matamata into the spotlight. Hobbiton has become one of the must-see destinations in New Zealand with approximately one in eight international visitors visiting Hobbiton during their trip.
"This success is attributed to a focus on continuous improvement, staff quality and revenue diversification. With 460,000 visitors in 2016 the company has worked tirelessly to realise the vision of an authentic and informative visitor experience within a living movie set.
The business is delivering across customer experience, growth, and bottom line performance targets. It has effective strategies to continue a high rate of growth into the future. It gives back to its local community on multiple levels.
"Hobbiton is a stunning, well-run business that is delivering not only regionally but to the New Zealand economy as well," Durning said
Bernie Crosby of Prolife Foods was named the inaugural laureate to the Waikato Business Hall of Fame.
Durning said that time and time again Bernie proved that through positive thinking and hard work, what may initially appear as a setback both professionally and personally, can in fact be a great opportunity to assist others.
WESTPAC WAIKATO BUSINESS AWARD WINNERS
Not-for-profit: CSC Buying Group
Micro Business: Raglan Coconut Yoghurt
Service Excellence: Agoge
Business Growth: Hobbiton Movie Set
Marketing: Hobbiton Movie Set
Innovation Award: Coolsense NZ Ltd
Strategy and Planning: SkyCity Hamilton
Community Contribution: Zealong Tea Estate
Global Operator: MEA
Emerging Leader of the Year: Richard Jeffares, Ultrafast Fibre
CEO of the Year: Garth Dibley, WEL Networks
Supreme Business of the Year : Hobbiton Movie Set
Waikato Business Hall of Fame inaugural Laureate: Bernie Crosby