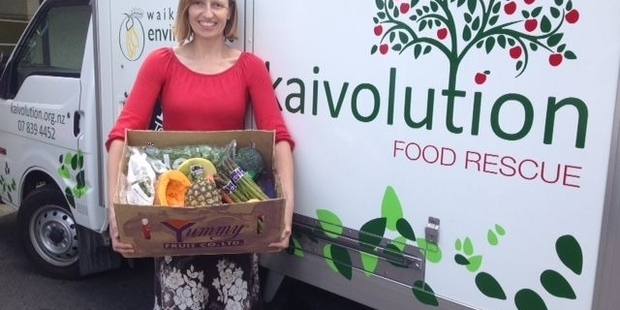 A fundraiser for Kaivolution, Hamilton's successful food rescue organisation, will be held on Friday, November 11 in the Wintec Atrium.
The Inaugural Posh Nosh Gala Dinner will generate additional funding for Kaivolution, allowing it to keep its head above water and possibly expand its operations.
Kaivolution just celebrated its second anniversary of operations after setting up through the Waikato Environment Centre.
The Centre's goal from the beginning was the collection and redistribution of food that was edible but not saleable, such as unsold fruit that was already ripe, products nearing their use-by date, or simply surplus ingredients, with the aim of stopping it all ending up in a landfill and giving off carbon emissions.
"We've just gone over 175 tonnes of food that we've rescued and redistributed that would have otherwise gone to mostly landfill," said Waikato Environment Centre general manager Sonia Fursdon.
As well as achieving that in two years, Kaivolution has had the welcome knock-on effect of providing food for many hungry and needy people throughout Hamilton.
The organisation sorts the rescued food into boxes for local charities and community groups serving mental health patients, people living in poverty, iwi groups, youth groups and the Migrant Resource Centre.
Kaivolution serves 60 such groups - some every day, others two or three times a week - transporting the food around in a refrigerated truck and a refrigerated van.
It gets the food mostly from supermarkets, but also from wholesalers, growers and cafes, mostly in Hamilton.
"Most of it, as we understand from the suppliers, would be going to landfill," said Fursdon.
"A small amount might have gone as animal feed, but most of it would go as landfill, and diverting waste from landfill is the why we got into it, and feeding the needy is a bonus as an environmental organisation."
Each month, Kaivolution rescues 11,000 kg of food from going to landfill. Because a lot of carbon emissions originate from organic sources, the redistribution and consumption of that much food results in a monthly reduction in carbon emissions of 20,900 kg.
"Of course, there's also the waste at the start of the supply chain - all the resources and time that go into actually manufacturing the food in the first place and that's kind of the hidden waste as well as what you see going into landfill," said Fursdon.
She commented that suppliers do not pay for the service, and charities also receive the food for free, so the Kaivolution operations are dependent on grant funding.
"That's why we're holding our gala fundraising dinner, to try and raise some funds towards keeping our trucks running and the chillers going in our warehouse.
"There's definitely more food that we could be collecting as well, so we're hoping to scale up and try and distribute further across the Waikato in the future."
As well as providing dinner, the Posh Nosh Gala will include a presentation by Kaivolution chair Pamela Storey, who spoke at TEDx Ruakura earlier this year about the initiative.
Profits from ticket sales will raise be used to help Kaivolution. There will not be any auctions or further cost involved.
Tickets cost $90-99 and are available on Kaivolution's web site.