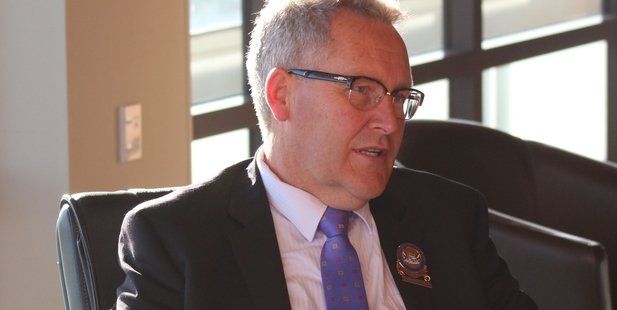 Andrew King has been confirmed as Hamilton's new mayor after a judicial recount held last week put him just six votes ahead of his closest rival, Paula Southgate.
Votes for councillors were not recounted, so the make up of council did not change.
Preceding the final result of the recount, King had already selected Martin Gallagher as his deputy, and announced a new committee structure and the committee chairs and deputies.
Council stalwart Dave Macpherson has been selected as chair of the growth and infrastructure committee. Newcomer Geoff Taylor will be deputy chair on that committee.
Qualified accountant Garry Mallett was appointed chair of the finance committee. Rob Pascoe, who chaired the finance committee in the last triennium, will now be deputy chair.
King has appointed Southgate as the chair of the community committee. Philip Yeung will be deputy chair.
"There are other good people who I just couldn't fit in or who haven't got the experience," said King.
"I can't just set up committees to give people jobs."
The new mayor said he has been making his way around Hamilton City Council, intending to forge working relationships in the process, which he says is one of his management styles.
"I call it MBWA, which is Management by Wandering Around," he said.
"It's actually just rubbing shoulders with people, talking to people at the coalface, where they do their job. The chief executive [Richard Briggs] is in charge of the staff, but I also just want the staff to feel comfortable with me."
King added he is trying to minimise the staff who work directly under him, employing only an executive assistant to help with such duties as scheduling and filing.
He said he would like to make use of the expertise of all of the people in the building, councillors and staff.
"With Richard's permission, I can go and talk to whoever's in the best position and the expert in their field in council, and use them to help me through on anything I'm not quite sure of."
The mayor's office has $380,000 budget for staff, but King's choice to employ only one person will use only a portion of that.
One of King's primary campaign platforms was a promise of truth and transparency.
"I don't see why anything needs to be withheld from either staff or other councillors," said King.
"When it comes to the debate, the more informed everybody is, the better the debate is. The tensions between the two extremes are healthy and I encourage that - it's not something to shut down."
When asked how he wanted to be addressed by staff and councillors, King said he would like to be referred to by his first name unless they are in the debating chamber.
"I don't want to be called Your Worship unless it's in jest," he said.
"I'm just a normal bloke who wants the best for his city, and nothing's changed except that I've been chosen to be the mayor, but I'm still the same person and I just want to work with the 12 [elected] members."