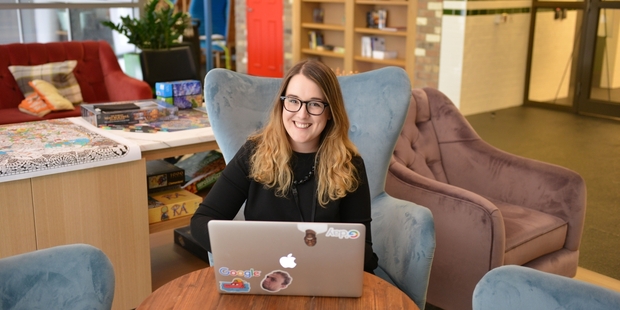 Former Hamiltonian Sara Schaare is now working for one of the world's biggest tech companies: Google.
Before completing a Bachelor of Computing and Mathematical Sciences with Honours at Waikato University, Sara didn't know much about computer programming.
"I'd always been interested in computers but didn't have much programming experience," said the former Fairfield College student.
But now she's a programming whiz.
Sara is a software engineer at Google Sydney, working with a team to develop products for emerging markets.
"Over the next three years, one billion people will start using the internet for the first time across Asia, Africa and South America. Our job is to build products for these first-time users that will enhance their experience."
One of the challenges Sara and her team face is creating products that work on low-end phones and unreliable internet connections.
"I love the problem-solving aspect of computer science and the challenge of finding a solution," Sara said.
The highlight of Sara's university experience was the friends she made and the teachers she got to work with.
"Now that we've graduated, it's awesome to see the projects and companies my friends have been involved with, some in New Zealand and others overseas.
"Find that thing that's burning inside you and do everything you can to make that fire burn brighter. Our best work comes from the heart and the world desperately needs more people who have come alive by doing what they love - so pursue this unashamedly."