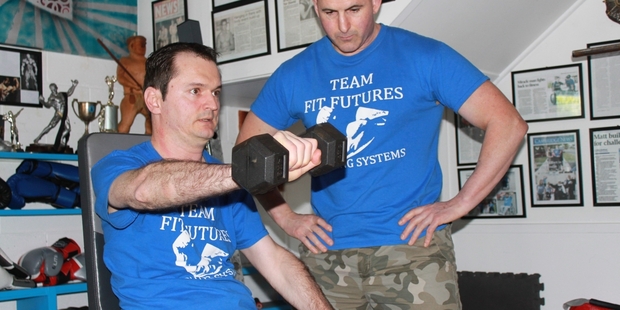 Being the number one Paralympic shooter, not only in New Zealand but Oceania, is no easy feat.
But that's what Hamilton resident Jason Eales achieved at Rio 2016, after about two years of intensive training.
Twenty years ago Jason's life changed when he was affected by a spinal injury to the C4, C5 and C6 vertebrae - paralysing him from the shoulders down with significant additional weakness on his left side.
He learned to walk again at the gym following the injury, but only relatively recently got involved in shooting, first-off as a hobby.
Jason has been working with David Robson, founder and director of Fit Futures Charitable Trust, to hone his physical ability since 2012.
Fit Futures provides clients with physical difficulties with help and training to unlock the full potential of their body. Most come from within the Waikato.
"Only recently now we've taken on the whole international scene, and it's proven quite successful," said Jason, regarding his competition in shooting.
Many would take this as an understatement, given that attending the Paralympics in Rio 2016 represented a formidable challenge.
When asked how his workouts at Fit Futures differ to those of a fully able-bodied person, Jason said his routines are very similar, just focusing on certain muscles.
"It's just like regular training sessions. In the beginning we trained maybe once a week and twice a week, and then towards the build-up to Rio it was three times a week, for gym and then shooting - except for Thursday. Thursday is rest day," said Jason.
The key factors have been planning, determination and support, he said.
The two years' training for shooting in Rio presented a challenge in itself.
"Consistency is the key. You've got to get that same position, you've got to breathe right, you've got to have your cheek in the same place, your triggering has to be right every time for every single shot. My shooting coach actually says each shot is a new competition."
From when they started training, David had told Jason he would make it to Rio. He brushed the idea off, but now he is encouraged by the progress he was able to achieve in two years and by the scores of other competitors he saw at the Paralympics, occupying 15 of the 20 apartment blocks that had been held by the preceding Olympic Games.
"It was actually really inspiring to see all these people, overcoming their difficulties in life, actually getting to that pinnacle of sport - there's nothing better than that. That's it, once you've got there there's nothing better," said Jason.
"That's why Tokyo 2020 is the next one, and that's what my sights are on - excuse the pun."