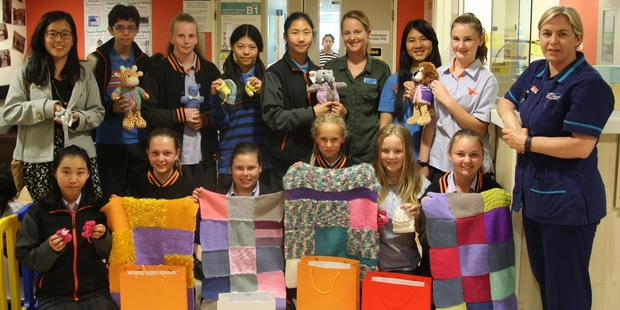 Students of Rototuna Junior High School this week gifted a collection of knitting to Waikato Hospital's Neonatal Intensive Care Unit (NICU), including blankets, vests, hats, boots and teddy bears.
"In our community we've got about 100 students and we decided as part of what we were learning we would like to do some service in our local community," said Rototuna Junior High learning leader Anna Pratt.
She says some of the students at the school, and also teachers, were connected to the NICU, either having had siblings in there or been in the unit themselves, so they decided to work on knitting clothes to gift to premature babies in the unit.
NICU charge nurse manager Christine Woolerton highlighted that the babies are small, in an incubator, and don't wear clothes. She said making clothes for full-term newborn babies would be a better idea.
"She sent out a whole lot of patterns and things. Once we realised that very few of us actually knew how to knit at all, and that in itself - learning how to knit - was going to be challenging, especially for some students who are like 'I don't want to do that'. They were quite funny to start with, the reluctance in general," said Pratt.
Rototuna Junior High decided on a change of tack. The school went online and found the students could learn to knit squares, developing their skills in casting on and casting off. The squares could then be sewn together to make blankets for the premature babies coming out of the unit in bassinets.
"So we had kind of a big knitting circle, and one of the highlights for us was looking around this room of 100 students, in a big space, and they were all furiously concentrating on their knitting. That was a real buzz," said Ms Pratt.
"The ones that were often the most reluctant to start with - especially the boys - became the best teachers of it."
It turned out that creating and giving in such a way gave the Rototuna Junior High School students as much benefit as the babies they were presenting the gifts to.
"We knew that it was a good thing to give to others, and we know that makes us feel good and contributes to our happiness, but we also found that once we got into that sort of repetitious nature of knitting, it was actually quite a good form of mindfulness or relaxation, and good distraction from everyday events like something that might not have gone so well that day," said Ms Pratt.
"We have got a school cloak which has got part of our vision on it. The C stands for' Challenge Our Mindset', and we were certainly challenged often. When you've done all this knitting and you look down and there's these three or four holes, and you have to unravel it. Or you start knitting and you were only supposed to have so many rows across the top. It was meant to be a square and now it's a rectangle."
Regina Marais from the NICU spoke to the students recently about the cause they gifted their knitted projects to.
"She was passing around some pictures and the kids just couldn't believe that a wedding ring fit on a baby's arm, and things like that," said Ms Pratt. "We also had three different families who had babies in NICU for different durations of stay, sharing their stories."
Among the students, 15 of the most prolific knitters were given a tour of the NICU unit by charge nurse Christine Woolerton.
Rototuna Junior High School hopes the knitting circle will be a catalyst for further projects that involve its students giving to the wider community.