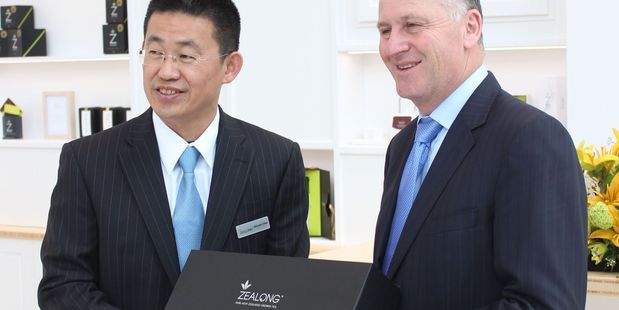 Zealong Tea Estate, located just outside Hamilton and New Zealand's only commercial tea plantation, had its new visitor centre and production facility officially opened by Prime Minister John Key last Thursday.
Key unveiled the plaque commemorating the opening of the $8 million development before an audience of local, national and international dignitaries, before the guests shared in a high tea prepared and served by Zealong.
The new complex, called The Vista, was built with the intention of attracting tourists as customers.
A dramatic view over Zealong's plantation, made up of 1.2 million plants, made for an impressive sight, especially considering the operation originally began with the mere 130 tea plants which were used to found it 20 years ago.
The Vista contains meeting and event spaces, an executive lounge and VIP room, and on-site catering with Zealong's distinctive 100 per cent certified organic teas at its centre.
Key said he has observed in his visits to Zealong that the estate is continuously advancing.
"It's living proof of the quality of investment and the long-term commitment to build an international market," he said.
"What's happening around the world is that there's this emergence of middle income consumers, not just in Asia, although they're the most recent ones, really, but right around the world from Europe to the United States."
Consequently there is a growing market for "foods and beverages that have a story", which Key said places New Zealand in a prime position in the global market, particularly through brands like Zealong.
"What we have to do is carve out our place in the world, not on volume but on value and quality."
He implied people who try Zealong tea will come to associate it with New Zealand, will want to share and relive part of the Kiwi experience with their friends when drinking it, and emphasised even if they buy tea online from overseas, it will still put money back into the New Zealand economy.
Key said Zealong is an example of overseas investment being of benefit to New Zealand, in that it has created new jobs and brought in new money.
Zealong started giving tours of its tea estate four years ago, and 40,000 people have visited in the past year alone.
The company is confident that patronage will grow at an even greater rate with the opening of The Vista.