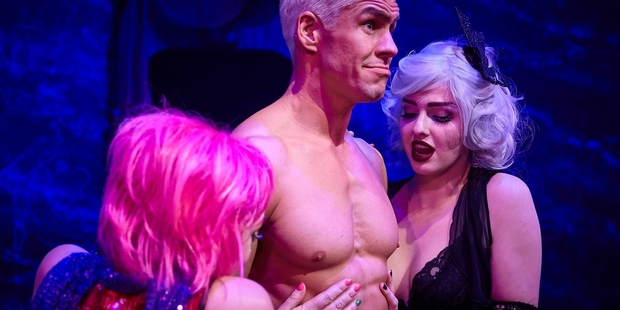 Hamilton Operatic's 2016 production of Richard O'Brien's The Rocky Horror Show has entered its third week of performances, and the accolades are rolling in.
A "brilliant production" and "more raunchy, sexy and compelling than any other production I have seen", said Hamilton News reviewer Steve Scott.
Under an exemplary lighting show, with eye-catching costumes, a solid and talented five-piece band, clever props and Sonja McGirr-Garret's superb choreography, it is almost impossible to take in every aspect of the performance in one sitting. This is a show that you need to see at twice to try and catch the things you missed the first time around.
Elderly family friends of director David Sidwell said "the show made them feel 40 years younger". Creative Waikato CEO Sarah Nathan said, "That was the sexiest thing I've ever seen on stage."
Margi Moore, director of Wintec Design Factory, said "This is a first rate and fabulous show! Brace yourselves, it's raunchy and rollicking. Believe me there are no cobwebs ... left in Clarence Street Theatre! Time to time warp! Congratulations to David Sidwell and the whole team."
Rocky is rated R13 but the innuendo is tastefully executed. People have travelled from all over New Zealand to attend this production. Audience members have come from Akaroa, Dunedin, Gisborne, Wellington, New Plymouth and Auckland. Notably, Hamilton Operatic Society is the only company in the country with the rights to perform Rocky.
Jason Wade, manager of Clarence Street Theatre, said: "There was one lady who felt a bit flustered and needed to wait in the foyer while her friends remained in the auditorium, but all in all, Rocky has been extremely well received by all age groups."
Rocky Horror will transport you to a different place and time, and will likely have you up and dancing in the aisles before the cast even begin their bows.
The audience participation performances are on October 26 and 28.
Richard O'Brien's The Rocky Horror Show runs until November 5 at Clarence Street Theatre. Tickets are on sale now via Ticketek.