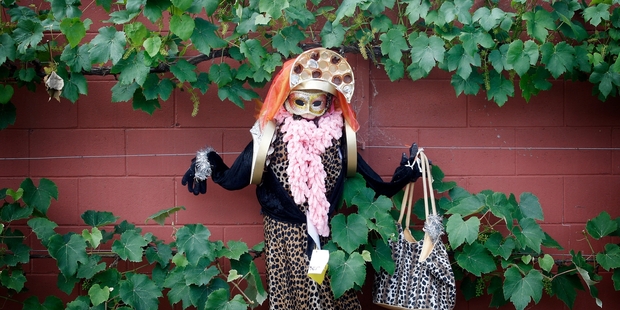 A colourful display of handcrafted scarecrows will be assembled in Hamilton Gardens on October 30 and Hamiltonians are invited to attend and contribute.
This year's Scarecrow Festival will be held in the Kitchen Garden from 11am to 3pm and will see the unveiling of the Bronze Strawman statue, purchased using funds raised by the Friends of Hamilton Gardens volunteer group.
Families, childcare centres, preschools, kindergartens, community groups and schools wanting their own scarecrow to be featured in the free event can take them down to the Gardens from October 25.
The creations will be stationed around the Kitchen Garden in different zones. Members of the public will be able vote for their favourite scarecrow in each category.
Prizes for the contest will include entry to the Leap Indoor Trampoline Park, rides on the Waikato River Explorer, and tours of the Hobbiton movie set.
The annual event provides family entertainment and activities, including market stalls, coffee and food sales, a scarecrow trail for children, sunflower planting, facepainting, chalk drawing, a sausage sizzle, a ukulele group, and a raffle for a children's wheelbarrow full of gardening equipment to encourage them to develop their green thumb.
Last year, there were approximately 50 scarecrows at the event, and organiser Cate Shepherd is hopeful there will be even more this year. Gold coin donations at the event will be very welcome, she said.
"Anything we raise on the day will go to our next project.
"At the moment what we're raising funds for is to help with the development of the Mansfield Garden, which is an enormous project. That will link in to our Katherine Mansfield Day that we will have."
Ms Shepherd said Hamilton Gardens have been very helpful in organising Scarecrow Day, because it encourages people to come to the gardens and to get involved.
Locals can become a Friend of Hamilton Gardens and do as much as they want to help maintain one of Hamilton City's biggest attractions. - Gary Farrow
To enter your scarecrow in the competition, visit the Hamilton Gardens website or Facebook page, or visit the information centre for an entry form.