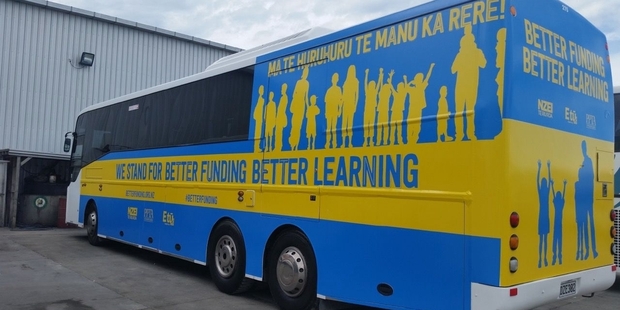 In recognition of World Educators' Day, a series of public events have been organised by education staff, including a parade and rally in Hamilton.
The Post Primary Teachers Association (PPTA) and New Zealand Educational Institute (NZEI) want to bring attention to potential consequences of the Government's proposed reintroduction of global funding to New Zealand schools.
Some are saying it would constitute the biggest shake up in the educational sector in 25 years.
Global funding would replace the current decile rating system, which decides how much money each individual school receives from Government, depending on the socio-economic status of its surrounding student catchment.
The new funding model would instead give a bulk allocation of funding to each school, and leave it up to principals and headmasters to decide whether to spend the money on staff or other resources at their school.
With the Better Funding campaign, the PPTA and NZEI both argue global funding has been proven inefficient overseas, and has had only negative effects on children's education, as it has resulted in fewer teachers being funded and increased class sizes.
Shane Vugler, lead organiser at NZEI, said although the current school funding system was not perfect, it was good by international standards.
"These [proposed] changes are imposing a market model that's been largely driven out in the States, which has failed there, and they're trying to encourage a similar model here, and the impact it's going to have on our children and our sector is going to be horrendous. I don't think parents can see the consequences."
Mr Vugler said that the global funding system effectively asks schools to achieve more with less funding, making the working situation harder for teachers, and affecting the socio-economic stability of children and their families, making education less effective.
He said while the current system is designed to create global citizens and foster well-rounded students, the Government is narrowing the focus from including personal development to solely getting a job and making sure there are "bums on seats".
"There's a political agenda behind it rather than an educational agenda, but parents have a lot of power, and they showed that in the class sizes debate four years ago, because they instinctively knew that if you increase the class size then each individual child is going to lose out in that exercise, and the Government did back down," Vugler said.
"Effectively the dangers we're facing this time around are even greater than that."
Maxine van Oosten, field officer for NZEI, said she hopes the Better Funding campaign will enable parents and families to be more knowledgeable of the proposed funding changes and enable them to speak up.
The Better Funding campaign bus will be visiting schools in the Waikato and the Bay of Plenty from October 25 to 28 to provide information about the changes.
"Our primary goal is to collect some postcards and send those to Hekia [Parata, Minister of Education] and encouraging parents to have an understanding about bulk funding, and what better funding looks like," she said.
The tour finishes on World Educators' Day on Saturday, October 29.
A celebration rally will be followed by a march beginning at Steele Park at 10am to Ferrybank Band Rotunda for speeches, kapa kaha performance, music and a sausage sizzle.