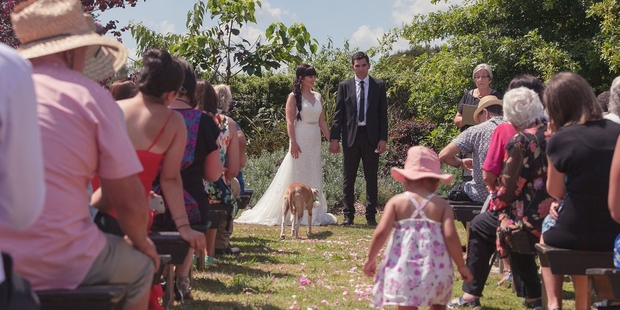 Just like the couple tying the knot, every wedding is unique. And that's exactly what a new wedding expo aims to celebrate.
The brainchild of Wed in Waikato - a group of local like-minded wedding industry professionals, One Wonderful Day will be held at the Meteor Theatre later this month.
Wed in Waikato member and one of the expo organisers, Brooke Baker said the Waikato is home to a large population of "savvy, creative and interesting people getting married who want to celebrate their day a little differently".
"Our region is chocka with accomplished, experienced professionals who are passionate about contributing to creative wedding celebrations," said Brooke.
"We thought it was about time the Waikato had a wedding industry event that reflected that."
Not satisfied with sticking within the bounds of classic wedding traditions, there are couples out there who side-step convention and want to do things their way on their special day, Brooke said.
One Wonderful Day will see more than 40 local professionals offering a wide selection of goods and services such as photography, celebrants, dresses, florists, cake makers, graphic designers and illustrators, suits, venues, equipment hire and planning.
There will also be seminars and panel discussions about a variety of topics including how to manage DIY elements of a wedding and how to work with vendors to make the most of your day.
"One Wonderful Day is about turning your dreams and plans into reality," said Brooke.
One Wonderful Day, Meteor Theatre, Victoria St, October 30 from 11am-3pm. Entry is $15 per person or $25 for a couple. For more information see www.onewonderfulday.co.nz or www.wedinwaikato.com
WEDDING TRENDS
Brooke Baker gave Hamilton News her take on what's hot for weddings this season.
■ Bouquets that have no flowers. Instead they are all lush greenery.
■ Nude cakes - no icing or minimal icing, finished with stunning fresh flowers.
■ Couples having their photos taken before the ceremony.
■ Couples sharing the entire day together. Never mind the groom waiting for his bride at the ceremony, couples are choosing to spend all day together including getting ready together with their families.
■ Unplugged ceremonies - no phones, no cameras!
■ Fully plugged in ceremonies. "There are couple who are creating hashtags for their big day and they're using apps that collect all the images their guests snap."
■ Elopements. 'Nuff said.
■ Engagement parties that become surprise weddings.
■ Second or third marriages that incorporate blended families. "These are all about incorporating the kids ... it's more of a party atmosphere and less of the 'all about us'."