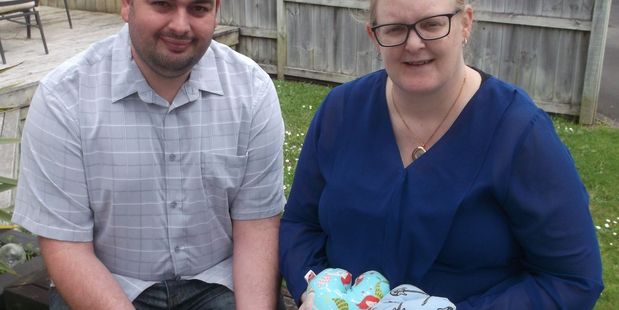 Baby loss is often an unspoken grief but an awareness week has been organised to break the silence.
October 9 to 15 is Baby Loss Awareness week which provides bereaved parents and families around New Zealand an opportunity to come together and remember the lives of their babies.
Hamilton woman Andrea Olliver-Thompson knows the pain of grieving the loss of a baby. Her daughter Amber died at 19 weeks' gestation after she lost her fight to Turner Syndrome in July 2014.
"Baby Loss Awareness week is a huge thing for us as it is about recognising all parents and families that have lost their beautiful babies and children and acknowledging them the best way we know how to -- with love.
"It also is a great way to create awareness to others who don't understand how that grief affects us in different ways and hopefully help them get a small glimpse of how often stillbirth and miscarriage happens," Andrea said.
Throughout her grief, Andrea and her husband Nathan longed for a physical memento to have in remembrance of their daughter, which resulted in them launching Huggable Hearts charity organisation in February 2015.
Huggable Hearts provides a free service by giving grieving families a fabric heart filled with rice made to the baby's birth weight. This gives families something physical to hold once they have said goodbye to their angel.
There will be many events held throughout the country during the awareness week for families to attend in memory of their child.
"This year for Baby Loss Awareness week Huggable Hearts have a dedicated memory garden for all angels at Huggable Hearts HQ and the plan is to fill it with colourful memory stones created by families to represent their beautiful angels," Andrea said.
Huggable Hearts invites families to join them by decorating two river stones so that they are identical, in memory of their baby.
One of the stones can then be sent to the charity before October 11, by contacting Huggable Hearts on their Facebook page - www.facebook. com/HuggableHeartsNZ/ - and families can keep the other identical stone for themselves.
On October 15 - the last day of the awareness week - Huggable Hearts will have a small ceremony to place the stones in their memory garden and will light candles at 7pm as a part of the global wave of light where families all around the world can light a candle in honour of angel babies.
New Zealand is the first country to start the global wave of light with every country lighting candles at 7pm, their local time on October 15, to ensure the light continues on for 24 hours around the globe.
Charity organisation Sands Waikato will also be holding an event for the awareness week. The group supports bereaved parents and families who have experienced the death of a baby, no matter what age or gestation. It is run by volunteers who are bereaved parents themselves.
Sands Waikato will be holding a memorial service on Sunday, October 16 at 2pm at the Rose Garden pavilion, Gate 2 of the Hamilton Gardens. The service will be followed by a shared afternoon tea and families can place flowers in the river in honour of their babies.
Charity organisations rely heavily on the kindness of donations to provide their services.
Donations to Huggable Hearts visit givealittle.co.nz/cause/huggablehearts or donations to Sands Waikato visit www.sands.org.nz