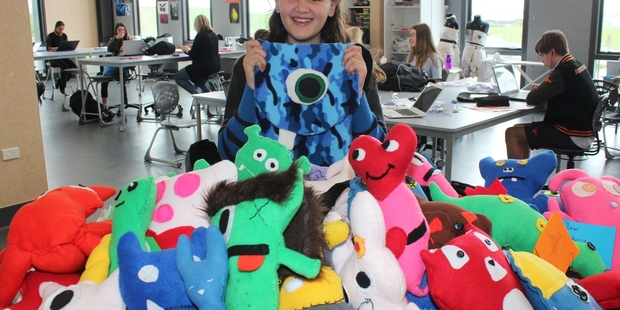 Rototuna Junior High pupil Rebecca Stainton is going to have a busy school holiday ahead of her as she makes the first products for a new business to support Women's Refuge.
Snuggle Monsters are tote bags, each with their own individually fearsome face, which Rebecca intends to make and sell to raise money for the Refuge.
She said the idea was children can use them to carry toys and also play with the bag itself.
"Some will have three eyes, some will have tongues or teeth. One of my friends suggested having vampire teeth.
"They were going to be for younger kids but now so many of my friends said they want one so I guess they are for everyone."
Rebecca said the idea came about when she decided to combine two school projects - the first on learning how budgeting and marketing worked in a business and the second to make a product for sale.
"The more time went on we decided to make some bags for Women's Refuge and also take the money from sales and give it to them," she said.
The original plan was to recycle soft toys from op-shops to make the bags, but 13-year-old Rebecca decided to stick to using donated fabrics to keep the price down.
Last week Rebecca was part of a Dragon's Den night at the school, where she received funding to make her first 30 bags.
While Rebecca has been prototyping her Snuggle Monsters her sewing class have also been creating GAL (Give A Little) dolls, which will be donated to children in need. Every GAL doll is one of a kind and reflects the characteristics of the recipient child.