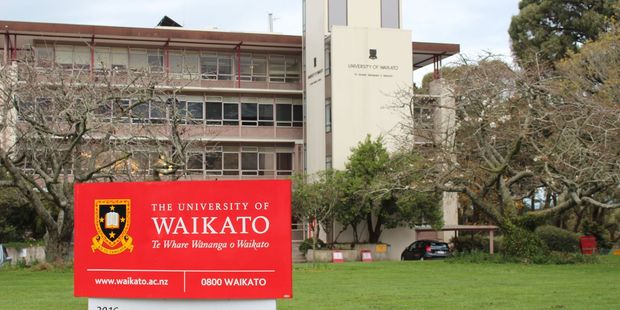 Big changes are expected at Waikato University as Vice Chancellor Neil Quigley signals changes in the staff to student ratio targets, which one University insider alleges could lead to substantial redundancies for general and academic staff.
But assistant vice-chancellor for communications, marketing and engagement David Craig said the new targets were part of the plan to incentivise the university to grow its enrolment numbers, not reduce its staff.
Tertiary Education Union co-president of the Waikato University branch Dr Lars Brabyn said staff anxiety levels were high.
"The Vice Chancellor has commented on some of his intended plans, which are to change the staff to student ratio from 20:1 to 25:1. He has also talked about a ratio of general staff to academic staff and changing that.
"He has given no exact details for how that will affect people's jobs but people are doing their own calculations to work out that there is going to be substantial change."
Dr Brabyn said the impending changes were not limited to Waikato, with the likes of Lincoln and Otago having also recently been in the news for some big changes.
Meanwhile, a proposed shake up of Pathways College may result in a number of positions being disestablished.
Mr Quigley confirmed the University had signalled changes to its internal budget methodology and targets for 2017 and beyond, including that by the start of 2018 all faculties would be operating with a staff to student ratio of 25:1, with the exception of the Faculty of Science and Engineering and Computer Science.
Hamilton News has tried to establish what the current ratio is, but no University spokesperson was willing to elaborate.
"The implications of these changes for staffing levels are not known at present and will need to be worked through in detail in each area," Mr Quigley said.
He said staff to student ratios determined the number of academic positions funded primarily by revenue from teaching, but would vary in areas where there is substantial research income to support academic staff.
Former associate director of Pathways College and former associate dean in the Faculty of Science and Engineering Tony Cartner said his calculations would put redundancy figures in the hundred and claimed that the 2017 budget held projected staff redundancy figures.
He was not able to provide a copy.
Mr Quigley would not confirm the existence of any projected figures.
"As this is commercial-in-confidence, we will not be releasing the 2017 budget," he said.
Mr Quigley said the implications of the budget changes on staffing levels were not known and needed to be worked through in detail in each area.
Assistance vice-chancellor for communications, marketing and engagement David Craig said the 2017 budget was still being put together.
"I can speak for my own experience that in terms of my portfolio I am in the throws of putting together what my budget will look like for next year. It's reasonably early days as far as the budget for 2017 is concerned."
Mr Craig said the context of the 25:1 ratio related to a strategic plan document circulated for consultation, and the goal was to grow the university enrolment numbers.
Mr Craig said the current staff to student ratio varied between faculties and courses and could not provide an average figure.
"The 25:1 is an industry standard," he said.
Mr Cartner said a move to a staff to student ratio of 25:1 would not necessarily be a bad thing and would depend on how the staffing was allocated.
"As long as the tutorial system can be delivered with small class sizes. Post-graduate students can deliver the tutorials under instruction as is done now in many papers.
"I think the university is moving in the same direction as is Unitec ie, using technology and a higher student to staff ratio to deliver tertiary education more cheaply. This is one of the new policy directions being considered in the productivity commission's current review of tertiary education; the direction is strongly supported by Minister Joyce."
Mr Cartner said any sudden large cuts in the cohort of staff would reduce morale of the institution and research would suffer.
"My worries around the sudden dropping of such a large cohort of staff is that staff are paying a high price for the lack of planning of previous university administrations and deans."
He said any decrease in staff as a result of student numbers should have been known in time to allow an orderly progression towards more suitable staff numbers.
A senior staffer at the University, who asked not to be named, said rumours were rife among staff about impending redundancies and staff morale was at rock bottom.
He said the University was not over staffed and discussions began with talks about a 30:1 ratios but took it back to 25:1.
Neil Quigley was able to speak on the future of Pathways College, the management of which was planned to be handed over to a British company for management, however plans were scrapped following Brexit.
"Consultation on a revised proposal which includes the disestablishment of some positions and creation of new positions has been undertaken with affected staff and their feedback is being considered before any decisions are made. If the proposal proceeds, changes are expected to be completed by 16 December 2016," Mr Quigley said.
Mr Cartner said the University had proposed to reduce existing staffing teaching on the Certificate of University Preparation (CUP) and Foundation Studies programmes and said all four sciences would be rolled into one teaching position in a move that gave him concern.
"Firstly a single staff member will not be well-schooled in all the sciences and secondly teaching includes not only lectures but also tutorials and an adequate number of laboratory hour's contact to complement the curriculum," he said.
Mr Quigley said an important factor in the proposal was the establishment of Academies in Business and Social Sciences to sit alongside the existing STEM (Science, Technology, Engineering and Mathematics) Academy.
"The Academy model will require the Waikato Pathways College to work with Faculties to help transition CUP [Certificate in University Preparation] students to higher level study. Under this model Waikato Pathways College staff responsibilities would include participation in the Academies and working closely with Faculty staff on matters of curriculum and, potentially, teaching," he said.