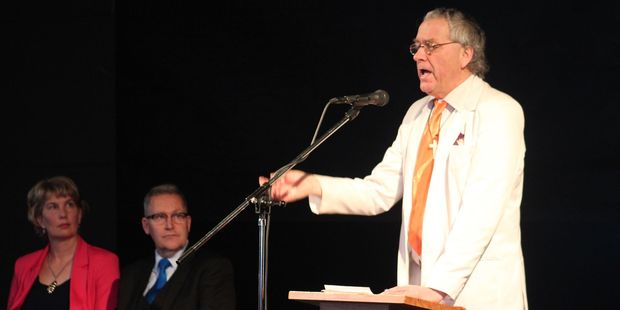 A mayoral debate hosted by local National MP Tim Macindoe packed out the Agora Cafe's event centre last Friday and a quick-fire-question approach revealed where the candidates stood on number of key issues.
While some candidates failed to appreciate the quick-fire aspect Arshad Chatha drew mutters from the crowd as he either failed to understand the question or commit to a stance.
Outside the quick-fire segment candidates were allowed a little more freedom to expound on issues close to their hearts.
Candidate James Casson drew on his previous experience as a police sergeant to voice concerns over inner city policing.
"In 1992 when I came here there were 88,000 people. Now there's 156,000 people and the same number of police officers on the street."
He said he would work to bring a police beat back into the central city and get community centres back up and running.
Candidate Andrew King's introduction highlighted growth as a key component to his candidacy.
"Council will tell you we have 3500 developer-ready sections available. Don't be fooled, developer ready isn't titled sections ready to build on. That's to say we have pipes in the ground for a developer to do their job but the developer hasn't got them to the market."
In regards to actions council could take Mr King suggested reducing red tape in the District Plan and bringing Peacocke into the city.
He said if council could secure $150 million of the Government's $1 billion Infrastructure Fund it would go a long way to opening it up.
The key was having more developer-ready sections in more areas of the city in order to encourage developers, Mr King said, which in turn would keep prices down.
Candidate Chris Simpson said with up to 40,000 more people appearing in Hamilton over the next decade that would mean 1500 more houses were needed.
"How do we do that? We set up an infrastructure policy and an infrastructure committee to deliver on that," he said.
Mr Simpson said while the $1 billion fund will be interest free for a decade council had to spend it wisely.
"I don't want to saddle future generations with debt because we made bad decisions now."
Paula Southgate said council must make a strong bid for the $1 billion fund and suggested a housing accord may be a possibility.
"I have already had conversations with Minister Smith about the possibilities with some developers for an affordable housing project here in Hamilton. I will pursue that actively."
Rob Pascoe said he agreed there were not enough sections and questioned the possibility of a housing accord given the central government had not approached Hamilton for such an arrangement.
He said there were mixed messages with a recent livability survey finding Hamilton did have affordable housing. He also acknowledged the potential of Temple View as a growth area.
Also on the subject of growth, James Casson said Hamilton needed to take a similar approach to Auckland and bring together all the interested parties to create a masterplan of how many houses were needed and how to get them built.
When candidates were asked about their ability to lead Ms Southgate pointed to her 15 years on Waikato Regional Council.
"I don't think you've ever read about disrespecting the public or staff at my council - we don't work that way, and I believe I would set a culture that would work that way in Hamilton City Council also."
Rob Pascoe pointed to his 40 years experience in private governance. While acknowledging criticisms of not having "enough mongrel" in him, Mr Pascoe said this would be countered by an inclusive style of leadership.
James Casson highlighted his position as a police sergeant and Mr Simpson reflected on some of the lessons he learnt when he worked under Prime Minister Jim Bolger, such as inclusion, listening and taking time to understand issues.
An audience question asked whether Hamilton was a true democracy when one candidate papering the town with excessive hoardings and signs - a question presumably aimed at Mr King, who responded by saying he was entirely self-funded and that he was running the campaign on his own without a team.
In an admirable attempt to end the debate on a positive note host Tim Macindoe asked what each candidate had done and been proud of in the past three years.
Candidate Jack Gielen highlighted his work with suicide prevention, while Mr King refrained from talking about council and talked instead about his family's involvement with short-term care of children.
Paula Southgate highlighted her work with the Hamilton Halo project aimed at bringing tui back into the city and her work in the Waikato Economic Strategy.
Mr Simpson highlighted his work with council on their economic strategy and the caring he has done for his mother who has been battling ovarian and breast cancer over the previous years.
Mr Pascoe touted his role in getting the city's finances in better shape over the last three years, and Casson highlighted his involvement with a local girls marching team.
SIDEBAR:
Question: Do you support capital-based rating in Hamilton?
Chatha: I am neutral.
Simpson: Against.
Casson: Against.
Pascoe: For.
Gielen: Against, we just don't want to see the elitists hold all the money.
King: Would not answer based on conflicting interests.
Southgate: Supported a blend of rating tools not simply one.
Question: Do you support the Riverbank Development Plan?
Chatha: Yes.
Simpson: Yes.
Casson: Yes, but not the Ferrybank.
Pascoe: Yes.
Gielen: Yes.
King: No, not when we're commercialising by putting a five-storey apartment block on land designated parks and reserve.
Southgate: Yes, as a blueprint, but the devil's in the detail.
Question: Would you support a two-year trial of a commuter rail link to Auckland?
Chatha: Yes.
Simpson: Yes provided the financials stack up.
Casson: Yes.
Pascoe: Favoured a business case, but didn't think council should foot the bill.
Gielen: Yes.
King: No, it's a romantic idea. It would take two hours to get up there and rates would increase by 2.8 per cent.
Southgate: Supported a full review and trial and supported getting more freight on rail.
Question: Would you support race-based seats on council?
Chatha: Didn't answer the question.
Simpson: Answered only by stating 38 per cent of Hamiltonians voted and it was essential to encourage more people to stand for election in general.
Casson: No.
Pascoe: No.
Gielen: Didn't answer the question.
King: No, that's not democracy.
Southgate: No.
Question: Do you support council's new plan to roll out three large waste bins to every house?
Chatha: Yes.
Simpson: Yes.
Casson: Yes.
Pascoe: Yes and encouraged residents to take part in the public consultation.
Gielen: Yes.
King: Yes.
Southgate: Yes, if it leads to more recycling.