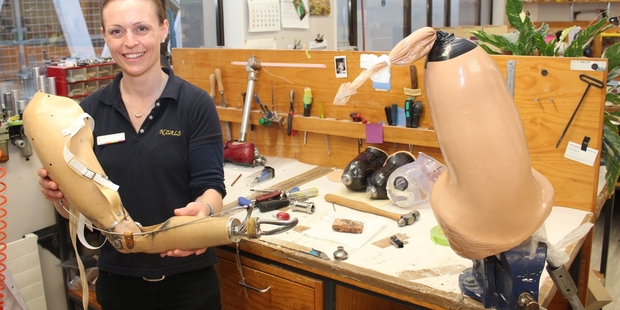 Technology is opening up new possibilities for amputees and with the prospect of bionic limbs becoming a reality, Artificial Limb Centre regional manager Laura Hillas explains just how much personalising goes into a modern prosthetic limb.
Tucked away beside Waikato Hospital, the Artificial Limb Centre caters to nearly 1000 amputees, including a number of Paralympians.
Ms Hillas acts as both an administrator and prosthetist for the service, and said for many, prosthetics are still a mysterious area of medicine.
"People are just interested in prosthetics. It seems an unusual part of healthcare that nobody realised had actually happened. People are just fascinated with it."
Ms Hillas said most people would assume that her's was a depressing position.
"It's exactly the opposite. These people have had the amputation to save their life or to get rid of pain and sometimes they have been in a really bad place and this is the first step of their rehabilitation and getting them back to what they want to do."
A standard mechanical leg can have components coming in from companies as far flung as Germany and Iceland, and it's all assembled in the Waikato.
It's not only matching the prosthetic for length; a prosthetist has to take into account the level of activity, the amount of weight a patient can lift, what waterproofing is needed and even whether the recipient would like to continue wearing high heels in the future.
Nowadays Ms Hillas said prosthetics could be operated by a spring mechanism, hydraulically or pneumatically, with the latter often being micro-processor controlled.
"One of the legs we provide has six sensors, three at the knee, three at the ankle, and it's got a gyroscope and an accelerometer. The knee joint knows where you are in space at any one time and what you're doing," she said.
"They can be adjusted and quite finally tuned."
The socket, which is the connection point to a person's body, is made in-house either by computer scan or good old-fashioned plaster of paris.
"It's very individual about what's going on with a patient or whether you would use one method or the other - sometimes the old ways are still the good ways."
Bionic limbs was something that particularly fascinates, and Ms Hillas said too often you read about them in the news as they were in development but not when it filters through to real life.
There are also myoelectric prosthetics beginning to appear, which use tiny electrodes within the socket to detect muscle movements. These signals can then be used to finely control movements such as hand grip.
Despite being made primarily out of titanium, stainless steel or carbon fibre, Ms Hillas said weight-bearing prosthetics like legs will sometimes need adjustments or replacement.
"We see patients for all sorts - for their first leg, for re-sockets if something happens to their leg and we need a new part, or repairs or new parts," she said.
"Some people will say 'I've had this limb for 20 years!' - they haven't, it's all been changed just in different parts."
The Artificial Limb Service centre covers an area from the Bombays to the Coromandel, Gisborne and New Plymouth.
"It's quite a large area, with Hamilton centre as the main hub and a few regional clinics we do."
Ms Hillas said there were 988 amputees in this area, which broken down includes 225 above-knee amputations, below-knee 550, and the remainder primarily arm and hand prosthetics. The biggest causes of amputation included vascular disease like blockages of arteries.