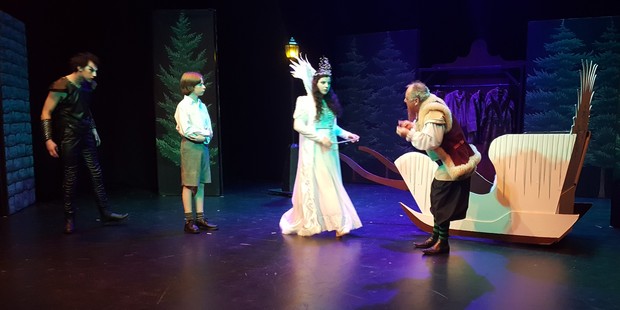 What: The Lion, the Witch and the Wardrobe by Stories and More
Directed by: Cecilia Mooney
When: September 24-October 2
Where: Meteor Theatre
I remember my Mum taking my sister and I to plays at the Left Bank Theatre in the school holidays in the 80s. We all enjoyed the plays immensely, Mum included. And now, I'm enjoying the same school holiday tradition with my daughter.
Stories and More puts on a play annually, timed with the school holidays so we were excited to head along to see their production of C.S. Lewis' The Lion, the Witch and the Wardrobe yesterday.
My daughter has a tendency to fidget when we go to the cinema but she was completely engrossed for the entire two-hour show.
The cast brought wonderful and consistent energy to the theatre and I was astounded at how well they all delivered their lines. Kudos to young Julia Glover who plays cute-as-a-button Lucy.
She has obviously put in a great deal of time and energy into learning all that dialogue.
Her on-set siblings Susan, Eli and Edmund were also outstanding, in particular Lochlan Scanlon who played Edmund; he channelled his character's good vs evil traits beautifully.
The fight scenes were energetic and were perhaps the only time the younger ones in the audience found themselves reaching for their mums' hands.

The set was simple and movable with hand-painted designs by the talented Stephanie McLennan. The costumes and makeup were fabulous, especially the White Witch's dress and cape which featured LED lighting sewn into it.
The music was composed especially for the play by Ben Powell and it didn't disappoint, adding mood and drama in all the right places.
This really is the perfect school holiday outing that the whole family will enjoy so be sure to book your tickets before they sell out! What's more, it will cost you about the same, if not a bit less, than taking the kids to the movies without the horrendously over-priced snacks and support out talented local thespians at the same time.

Tickets from: https://www.iticket.co.nz/events/2016/sep/the-lion-the-witch-and-the-wardrobe