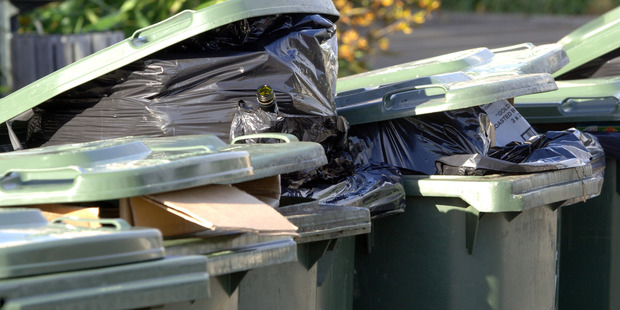 The biggest overhaul of Hamilton's waste management in almost two decades will go out to public consultation in mid-October after Hamilton City Council voted unanimously to progress a kerb-side collection system.
The proposed service will have four separate bins for each household including a 120 litre garbage bin to replace the current system of having two 60 litre black bags, a 240 litre wheelie bin for recycling to hold all paper, tin, aluminium and plastics.
The existing crates for glass will be retained and a new 23 litre food bin will also be added.
If the proposal goes ahead the roll out is expected to be in 2019.
The new service is also expected to increase waste diverted away from landfills to 50%, up from the 29% of the existing service.
Mayor Julie Hardaker said she often heard the public asking why they could not recycle all plastics or pizza boxes, which the new system would enable, and it seemed interest in waste management was high.
She said the process for a new system began a number of years ago after Central Government announced all councils must have a waste management minimisation plan.
"We wanted to become a national leader," she said.
"If we had to summarise the drivers for this they would be: it's the right thing to do for the environment, to look at this issue and come up with a service that responds to that, and secondly the cost, because we know more cots are coming."
At this stage the yellow-topped recycle bin and glass crate will be collected fortnightly, and the rubbish bin and food bin will be on a weekly schedule, but this may be adjusted after feedback is completed at the end of November.
Currently residents can only recycle plastic marked 1 and 2, but with the new yellow-top wheelie bins everything will be recyclable except for polystyrene and film such as plastic bags.
Ms Hardaker said plastic bags can now be recycled at most supermarkets, but polystyrene will still have to be binned because its light weight makes it unattractive on the commodity market.
All food scraps will be turned into compost.
Ms Hardaker said the current Waste Disposal Levy enforced by the Emissions Trading Scheme, which is a national charge paid by councils depending on the weight of waste sent to landfill, cost council $260,000 per year.
General manager city infrastructure Chris Allen said council models suggested these charges were going to increase dramatically in coming years, going from the $260,000 to $1.8 million in a decade.
"The government has put in this scheme to disincentivise putting stuff in landfill and all the best advice says this is going to keep going up," he said.
This $260,000 was above and beyond the cost of the service, which currently sits at $4.1 million.
The estimated cost of remaining with the current service in 2019 was $5.7 million, compared to $5.8 million for the proposed new service, meanwhile the roll out of the new bins is expected to cost $7.4 million.
The relatively similar figure was partly down to the increased sorting at kerb-side increasing the value of the recycled products, Mr Allen said, meaning waste companies could demand a higher price on the commodities market.
Council have been with the current provider since 2001, and this contract will expire in 2019.
"They were pretty leading edge at the time but that was seventeen years contract. The nature of waste is you have to have long-term contracts because of the fleets and everything," Mr Allen said.
Back bags were on the way out from a health and safety point of view, Mr Allan said, with workers prone to back strain and cuts.
A random survey of 500 black bags recently found 37 percent of waste was food, which Hamilton City Council asset manager Emily Botje said contributed hugely to the amount of methane being produced by landfills.
"Food can be recycled, and we found 15 percent of what was in the black bags could be recycled with out current service," she said.
She said council would be looking at supplying extra bins to larger families.