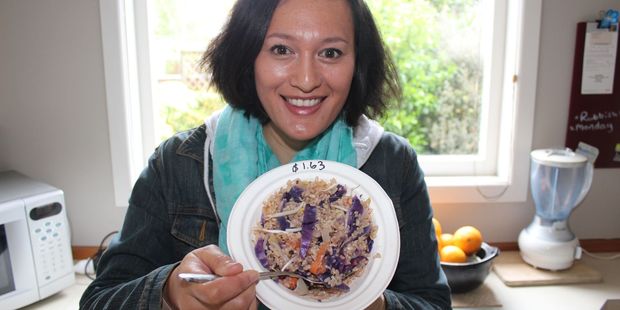 Hamiltonian Rose Boyce-Timutimu knows a small cup of oats costs 12 cents, a cup of rice costs 63 cents, and a teaspoon of peanut butter costs 23 cents.
She also knows that chewing on a raw carrot helps keep hunger pains at bay.
Why does Rose know these things? Because for the last week she has been taking part in Live Below The Line, a charity awareness campaign aimed at raising money and awareness to help the estimated 21 million people trapped in slavery.
Participants have to survive on $2.85 a day to simulate how those below the poverty line live.
The interview begins with Rose asking if she can eat while we talk - it feels like a long time since breakfast.
"I usually sponsor people doing this, but this year they're not doing it so I thought I would give it a go," she said.
There are no instant noodles in Rose's shopping list, but lots of rice and fresh vegetables.
The challenge last for five days.
So far Rose has raised $345.
"I have raised enough to support a child in Nepal with their education - that is enough to provide a highschool scholarship. It's part of the cause, the average age of victims is 12 and usually they come from poor families, either kidnapped or duped into going to work to support their families," she said.
"If they are educated they can at least hope to get a decent job and make a modest living and support their families that way."
Everything Rose eats is measured by weight and cost.
"I bought a half dozen eggs, they are 67 cents each, so every time I eat an egg I add it on to the day," she said.
"I bought treats, some almonds...that's 59 cents for a tablespoon so I have had to ration them out. There's not many left."
On her second day friends appeared with chocolates and popcorn to cheer her up, but she turned them away. It was one of the more painful parts of the experience so far.
If you would like to contribute to Rose's campaign visit www.livebelowtheline.org.nz, click donate to a friend and search for Rose Boyce-Timutimu.