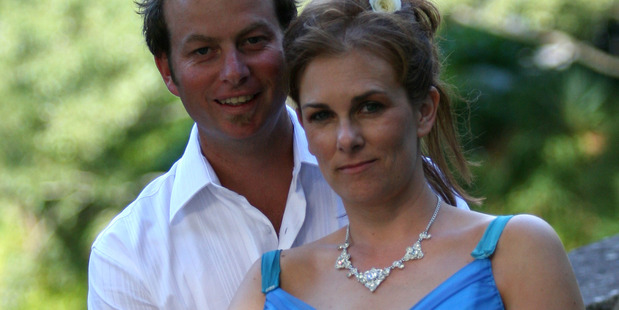 Hamilton City Council's finance committee voted down an amendment to increase council's contribution to a trust for Samantha Kudeweh's two children. Samantha is seen here with husband Richard and their children, Billy, now aged 10, and daughter Sage, now 4.
On the one-year anniversary of zookeeper Samantha Kudeweh's death, Hamilton City councillors put an amendment forward to substantially increase the council's contribution to a trust for Samantha's two children.
The amendment, which would have put an additional $80,000 into trust for Billy, 10, and Sage, 4, was rejected in one of the closest run votes of this council's triennium.
The amendment was put forward during Tuesday's finance committee meeting by Cr Gordon Chesterman as part of the debate on the Pricewaterhouse Coopers (PwC) review of Hamilton Zoo.
"I spent the last hour listening to all the mechanics of this issue. The fences, the animals, the staff -- we pleaded guilty and accepted responsibility," Mr Chesterman said.
He said nothing would change the outcome, but the amendment was about doing something right.
"We need to put some heart into what we do as an employer and during this time of discussion in this matter I haven't once heard anything about the two children.
"I think about the education responsibilities that their father will have to move forward and I think, it's a personal view, that even though the judge has made some decisions around this case that $20,000 for two children isn't adequate for the future."
Council originally donated $20,000 to the trust set up to support Billy and Sage Kudeweh and was ordered by the courts to pay an additional $10,000.
Cr Dave Macpherson seconded the amendment, and said despite all the legal precedents being followed, it had not ended in a fair result.
Cr Leo Tooman expressed concern that council was effectively questioning Judge Denise Clarke's decision of the Friday before, and Cr Garry Mallet pointed out the committee was dealing with far less information than the judge and prosecutors.
"I think they are trying to use objective foundations to make their basis of their payment of the award they made," he said.
"I think the council has been appropriate in our approach. I think it is wrong of us to blast away all that legal precedent and all that legal objectivity, simply because it's easy for us to give someone else's money away.
"No one knows the pain those kids are going through, but I don't know all the ratepayers of Hamilton deserve to be fined for that either."
Gordon Chesterman, Dave Macpherson, Philip Yeung, Martin Gallagher, Angela O'Leary, and Karina Green voted for the $80,000 to be granted.
Mayor Julie Hardaker and Crs Rob Pascoe, Garry Mallett, Margaret Forsyth, Andrew King, Leo Tooman and Ewan Wilson voted against.
Last Friday, Judge Denise Clarke imposed a $38,250 fine and a little over $10,000 reparation to Mrs Kudeweh's children.
The judge deemed a $100,000 emotional harm payment was appropriate, but noted council had already made compensation payments equalling $116,000 and had therefore covered their obligations. This also came under the spotlight at Tuesday's committee meeting, with Cr Dave Macpherson questioning chief executive Richard Briggs on the payments after widower Richard Kudeweh claimed they had not been made.
Council rejects trust fund increase
Mr Briggs said Mr Kudeweh had since retracted the statements and defended the council's position, both legally and morally.
Mr Kudeweh also worked at the zoo at the time of Samantha's death and Mr Briggs said the $116,000 was all above and beyond what council were legally obliged to pay Mr Kudeweh under his own contractual arrangements.
Cr Andrew King questioned whether Mr Kudeweh had been aware the payment being made immediately after the death would be presented to court later as compensation.
Deputy chief executive Lance Vervoort said the money had been paid to Mr Kudeweh without any qualification.
The PwC Review and its recommendations were accepted by councillors.
These included modifications to animal enclosures and related procedures, costing $210,000, and changes to the staffing structure, which included hiring nine new full-time staff.
A two-keeper system was implemented after Mrs Kudeweh's death and the Review included recommendations of refining how the new system worked, and extending it to include when keepers were working around African wild dogs.
Additional staffing of nine full-time staff would cost council $515,000 and an additional $300,000 would go towards other capital improvements.
The PwC report also recommended CCTV cameras be installed, along with a mechanical interlock system in the tiger enclosure so keepers would never find themselves in the enclosure while critical gates remained open.