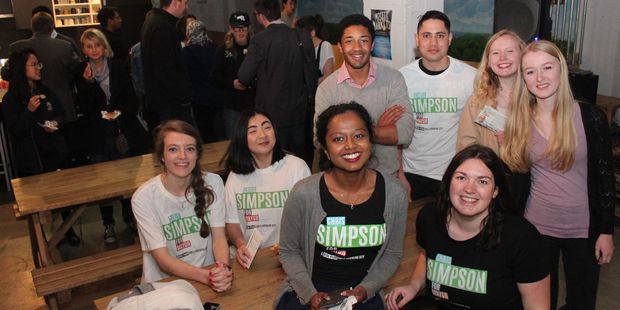 Four of Hamilton's leading youth organisations came together to host the city's mayoral candidates last Friday, which resulted in variable success as candidates attempted to connect with the city's young voters.
Candidate James Casson was a standout on the night.
After asking attendees not to hold his previous position with the police against him, he had a number of fresh ideas to share for engaging youth, including using free music events to revitalise the CBD and allowing graffiti artists to work on the Anglesea St wall below Wintec.
He said as mayor he would follow the example of engagement he had seen operating in Munich, where school pupils were asked directly for feedback to inform council.
"People who are 14, 15 and 16 are going to be the future users of the city and they are the ones saying what they want to see done."
On the other side of the coin was little-known candidate Arshad Chatha, who decided to endear himself with an introduction about how he would educate youth about their future and ask them "not to actually do the drugs and all the crimes that the youth are involved in" - an interesting approach for a youth conference.
When the issue of homelessness in the city came up Mr Chatha came across as a man attending for his own catharsis.
"Sometimes it's very hard for me to understand when we have a social security system in New Zealand then why are these people homeless?"
He said council must first establish if there was a psychological component to a homeless person's situation. If there was Mr Chatha said they should be directed towards the right services, and if not, they should be "moved from the city somehow".
Candidate Chris Simpson was only present for the first half hour of the meeting and said he would seek to give the existing youth council greater influence.
"We're going to give the youth council some teeth, to give us some support around what the youth need," he said.
Mr Simpson's campaign team were also a draw card, with a number of young adults in the audience sporting Team Simpson t-shirts.
Candidate Paula Southgate said she had looked into best practice models about how to engage with youth and had some interesting comments about empowering youth by involving them directly in funding decisions.
"Empowerment will come with having a little more control over funding and driving some of the implementation," she said.
The often-eccentric Jack Gielen also came off strongly on the night, despite explaining how he "talked to youth on the street on their roller skates" and airing a few of his usual outlandish ideas, including for councillors to spend a night sleeping rough to understand the conditions of the homeless.
He said the city was boring and youth needed more entertainment options.
"Why are we so down on the youth? Whenever they drink we blame them for drinking, but we don't have any alternative to give them something constructive to do," he said.
"On the youth council and mayoralty we need to have a group that's dedicated to finding specific roles empowering youth to participate in the city with youth activities from music to art, bike riding, all the things youth like to do."
He suggested more buskers should be allowed back into the CBD to liven the place up.
Rob Pascoe also supported bringing in the youth council to talk to senior councillors but otherwise failed to shine.
A member of the crowd interrupted proceedings to ask if the candidates would support a youth in running for council.
Paula Southgate said she had tried to convince debate organiser Jason Sebestian to run, while Andrew King said the reality was older voters would not support young candidates, using his son Josh's previous campaign to highlight the point.
"He got all the youth around Hamilton to get voting, he went to all the school balls and he's a real socialite. I got in because of my son, I picked up his votes, but all of my generation said 'I'm not going to vote for him' -- even my family friends," Mr King said.
"They said 'he doesn't have any experience, we don't believe he can do that job'. That is the reality of the world we live in."
Mr King said it was important to have young representatives on Council, whether they had experience or not, as long as they were stable, reliable and serious about representing youth and Hamilton City.
Mr King went on to point out Nick Johnston, also present at the debate, was the youngest candidate standing.
"It's not about the experience you have, it's about getting young people in to have a voice."
Mr King's point underlined the main failing of the debate, which was not allowing the young council hopefuls to speak, despite most of the younger candidates being present, including Nick Johnston, Max Coyle, and Hiki Toroa.
The youth debate was hosted by Zeal Hamilton, Te Ahurei a Rangatahi, the Hamilton Youth Council and the SHAMA Ethnic Youth Advisory Group.