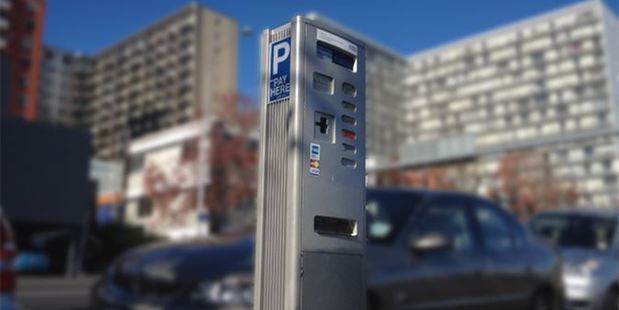 A large-scale revamp of Hamilton's CBD parking early next year which will introduce new technologies and charging regimes doesn't go far enough to change residents' negative perceptions of the CBD, say some council candidates.
The revamp will establish two distinct parking zones as well as a blue zone which will introduce free parking before 9am and after 3pm.
West ward candidate Geoff Taylor has come out against the changes, saying only free parking throughout would succeed in changing public perception of the CBD.
"The [council's] plan is to introduce time zones north of London St, but south of there - all the way to Tisdall St, will still be paid parking at a rate of $2 an hour." Mr Taylor said the changes were "tiptoeing around the edges" and council needed to send a clear message to shoppers.
"In the areas that need it I would have one or two-hour time zones so you're still getting the turnover, and I would police those parking zones very well. The last thing you want is the CBD workers parking all day and keeping the shoppers out."
Taylor said a business like council that was expecting revenues of $228 million in the 2016/17 financial year, a loss of $1.5 million parking revenues would not break the bank.
"If the CBD keeps dwindling we will have bigger problems to worry about. If you get the CBD booming again ultimately you will get more revenue for the council. If you play the long game you will get higher property values, higher rates and higher income."
Detailing specifics of the proposed new parking technologies, city infrastructure general manager Chris Allen said the new system would allow people to pay for parking by smartphone, receive reminders if they are running over time, and provide live 'heat maps' showing current parking availability.
"People will still be able to pay for their parking through traditional methods, but the upgrade will allow us to take advantage of other technology in the future, such as sensors and automated smartcards for disabled drivers or other users of designated parks," he said.
"The project was originally expected to be operational prior to Christmas 2016, however it has now been delayed after feedback from prospective suppliers."
Mr Allen said marketing to communicate the changes would be launched early next year to avoid the busy holiday period when many residents were away.
"Our transport team is currently looking at options for parking initiatives and promotions leading up to Christmas."
Mr Allen said it was important to realise parking wardens' role in keeping the city moving and drivers safe, including enforcing bylaws and preventing illegal or dangerous parking around schools or cycle lanes.
"The perception is that they are just there for issuing parking tickets, but their role is far more important ...
"The city has nine parking wardens. They have a tough job, but they do it well and people often don't realise the benefits they bring."
East ward candidate Mark Bunting had his own ideas for how to solve the city's parking issues.
"We rip out the parking meters in the central city and replace them with sensors like they have at The Base - the ones that tell you if the park is vacant.
"They can also be set to change colour after a certain period of time. Every day they're set for a different time. In Victoria St it may be 40 minutes, and in Harwood St for four hours depending on supply and demand."
Parking would be free and digital billboards would keep drivers informed of where free spaces could be found.
"If you run over time your light changes colour and the charging starts."
Mr Bunting also wants to see parking wardens replaced with "Hambassadors', who would act as local hosts as well as wardens and would be employed by the Hamilton Central Business Association.
See page 4 for mayoral candidates' take on the issue of parking in the CBD.
MAYORAL CANDIDATES HAVE THEIR SAY ON PARKING IN THE CBD
Rob Pascoe said his first reaction to the possibility of Hamilton losing its parking revenue was to reject the idea, but he was happy to sit down and work out alternative revenue streams.
He said councillors had hashed out the idea of free parking during the Central City Transformation Plan discussions and decided the best option was free Sundays, mornings and afternoons.
He said the new technologies would make paying for and monitoring parks easier and said it was a necessary expense.
"We have had a look at the business case and data from oversees and it will pay for itself in future."
Mr Pascoe said there was no immediate need for extra carparks in the city.
"At different times when I look down from the ninth floor of the council offices I see spaces. They might not be right outside where you want to go, but there are always spaces. I'm not sure we need more."
Andrew King disagreed with Mr Pascoe.
"This sounds simplistic but we need to get a lot more parking into the central part of the CBD. The additional parking has to be planned in line with the expected future vehicle trends, and has to make sufficient short-term parking available for shoppers and restaurant guests."
Mr King said the introduction of smart meters was one possible workable solution.
"This system will automatically record when you pulled into a park and when you leave, and charge for parking accordingly - ideally with the first hour free and then a rising additional charge for every subsequent hour to discourage inner city residents and workers from parking in prime spots all day."
Chris Simpson said from his time working for council he understood around 80 per cent of parking and infringement revenues came between 9am and 3pm, and he therefore supported current plans to make parking free outside these times.
"All day free parking is a big chunk out of the budget."
He said having spoken to the business community, shop owners were more concerned that free parking would result in their employees clogging up spaces.
"It's pretty hard to manage people jumping out, and moving their cars to another carpark for two hours."
He said the cost of new technology was worth the money, and was surprised it hadn't been rolled out sooner.
"With a growing economy we are going to need more parking, and it's about sending those clear signals to the private sector."
He said it was also essential to provide cycle racks and a good bus system, and putting technology in to monitor traffic movements was also needed.
Paula Southgate said she did not support entirely free parking in the CBD, partly because it was not what local businesses were calling for.
She did support any measure that would make parking easier, and supported the rollout of new technologies which would allow for traffic heat maps and more varied payment methods.
Ms Southgate did however question whether the free times being before 9am and after 3pm were the best times, and supported consultation to find out what patrons wanted.
"I don't know the rationale behind the times," she said.
James Casson said council could shoulder the lost revenue from parking meters, but should only have two hours free with stringent checks to make sure office and retail workers were not camping in the parks or moving every two hours. He congratulated Centre Place mall for introducing free parking on weekends and said the rollout of new technology was a possible step.
"They have a similar system in Tauranga and I found it quite useful."
Mr Casson predicted that the CBD would thrive in coming times and that private investors should be encouraged to create more high-rise parking buildings.
"Parking is a big money spinner so I think private investors would make their money back quite quickly."