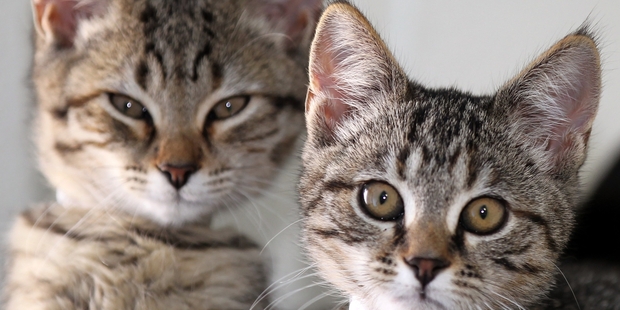 An animal welfare advocate is calling the situation an "absolute disaster" with kitten season just around the corner and the SPCA cutting back on services. .
New Lives Animal Rescue founder Donna Young said there was a lot of pressure being placed on rescue centres and urged anyone with a dog or a cat to get them desexed as soon as possible to avoid hundreds of unwanted kittens and puppies.
Waikato SPCA chairperson Jan Thomson said cutbacks would include no after-hours services, a move from seven-day-a week services to closures two days a week for the foreseeable future and a reduction of staffing from 25 to 15.
She said the Waikato branch had not received any funds this year to offer free desexing but was still selling subsidised desexing vouchers.
"I'm not able to predict what kitten season will be like and my answer to you is we always do our best."
Ms Young said New Lives was being inundated even now with animals needing to be rehomed because they were being allowed to breed.
"We have put $2000 into Hamilton South Vets, so we have $30 cat desexing and $60 dog desexing. We are going to be doing that on a regular basis now and putting more emphasis on desexing and less on rehoming," she said.
"We are still rehoming, but we will be putting a lot more money into desexing community animals."
A desexing operation can cost up to $300 for a female dog, with cats costing as much as $150.
Paws 4 Life founder and director Rachael Maher said after November the number of kittens skyrocketed.
She said news that the SPCA was not going to be taking on any kittens which were unable to feed themselves would exacerbate the issue.
"What we do, and every other rescue does, is we find a fosterer who bottle feeds the kittens. To kill a kitten just because it is four weeks old is not okay," she said.
SPCA chair Jan Thomson said the centre had for some time not accepted kittens which were still feeding from their mother.
Ms Maher is expecting a child within three weeks, but said with the situation as dire as it is she would only be taking a month off.
"I don't have a choice. I have to reopen to take the animals because there's nowhere else for them to go."
Any time off will be used to seek fresh funding and donation sources.
"This kitten season will be our toughest yet. Just financially we don't have the funds we used to have."
Humane Alternative was once an animal rescue in the city, however nowadays operator Sue Marsh uses all available funding to subsidise desexing operations in Hamilton.
The subsidised service is available to anyone with a Community Services card.
"We do $40 vouchers for people to get their cats desexed, males and females. We attack the problem at the start, as opposed to running a shelter after the kittens have arrived," she said.
If you have a Community Services card and wish to have your cat desexed you can call Sue Marsh on 07 849 6064.