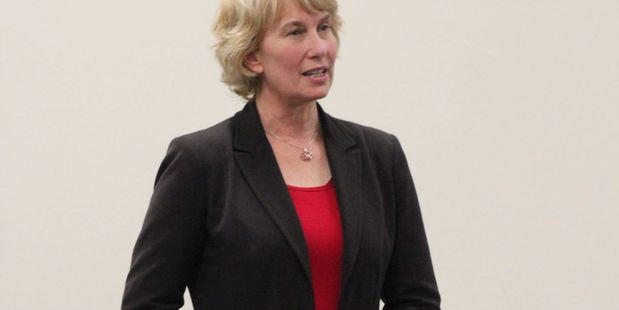 What's playing on your car stereo at the moment?
George Ezra. This young man has great talent and a great voice.
What's the best piece of advice you've been given and by whom?
My grandmother was amazing and taught me to always be honest (so I find it hard to lie) and hardworking and never buy things you can't afford.
Who would you most like to meet and why?
Oooh hard. I met with the last Governor General Jerry Mateparae recently and his wife. A wonderful man who found Pope Francis amazing to talk with. So maybe?
What's one thing people would be surprised to know about you?
Many people would not know that I can ballroom dance and did my gold medal test.
Favourite Hamilton eatery?
Really? Just one? Impossible! I do like Victoria St Bistro, Gothenberg and Cinnamon Caf but so many more.
Favourite place in Hamilton to visit?
The river walkways. I used to go everyday but just too busy right now.
Most embarrassing moment?
I have had a few! Recently I went to leave a work function and my handbag swooshed glasses off a table with a crash of breaking glass!
What's your favourite summer holiday destination and why?
I like to explore new destinations in my holidays. But Niue was amazing because I swam with two oceanic humpback whales! A wonderful special birthday treat by my husband, Greg.
Have you ever done drugs?
I do drink a little wine and plenty of coffee I must confess.
What hair products do you use?
Also, a strange question. A touch of hair oil to tame the fizz on a bad day.
What song best describes your work ethic?
She works hard for the money!
A penguin walks through that door right now wearing a sombrero. What does he say and why is he here?
He is here to steal my Mexican dinner and says nothing, but I'll have to call State Insurance.
If you had Hamilton News over for dinner what would you cook for us? (And when can we come!?)
Goodness, the press and politicians sharing a meal, cosy? I make a fabulous fish pie. I'll book you in.
What do you plan to do with all your corflute signs after the election?
WILS are re-using them for community group projects and also the two skins for my big billboards ( they can be made into bags). Happy about that because what a big waste of plastic otherwise!
What do you think of garden gnomes?
I don't think about gnomes at all. I have a tiny pink flamingo in my garden.
You're a new addition to the crayon box, what colour would you be and why?
Magenta - colour of compassion and trust.
If we were talking to your best friend or spouse, what is one thing they would say you need to work on?
Work life balance! They know how many long days I do and would say "Take time for yourself".
If you were allowed one super power, what would it be and why?
Wouldn't it be good if you could make people say the truth with just one stare. Now that could be useful.
Do you prefer to be right or to be liked?
Ha! Both! No, to be honest I know you can't always be right, or liked! I am ok with that.
If you only had six months to live, what would you do with your time?
Spend time with family and friends doing fun things, sharing laughs and happy memories.
What's the last gift you gave someone?
A very sloppy fish pie dinner for my daughters who, both, last week has their wisdom teeth out, a mother's love gift. Oh, and chocolate to some election helpers.