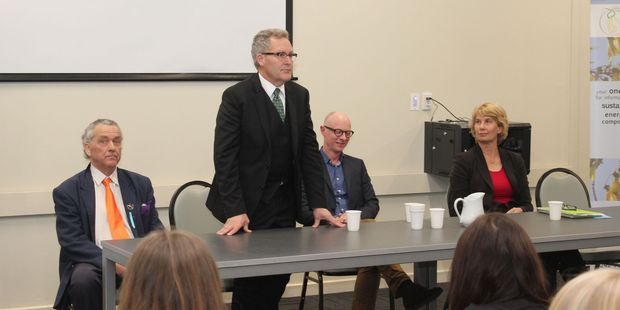 The Candidates on Environment and Sustainability debate was held on Monday evening, and while some mayoral hopefuls used the opportunity to outline their green credentials others decided brutal honestly was the best policy while another tried to sell his idea for $50,000 homes.
Notably absent from the debate were Rob Pascoe and James Casson, the latter expected at a similar event on Wednesday.
Chris Simpson began his speech by acknowledging Conservation Week and his experience in economic research in Parliament and the NZ Property Council.
Paula Southgate's introduction dealt more heavily with environmental protection while still touching on economic and community matters, and she took the opportunity to list projects she had been involved with, including the Halo Project, Enviro Schools, Waiwhakareke Natural Heritage Park, and pest control.
Candidate Andrew King introduced himself as running on a foundation of honesty -- and he certainly did that, refusing to play to the audience with a number of admirable, but perhaps unwisely blunt, answers for an environmental debate.
He said sustainability was about balancing doing the right thing for the economy, the environment, and affordability but the "honesty" really became apparent when asked if the CBD needed more parking and what kind of message it would send about public transport.
"Hamilton does need more parking in the central city, it needs to be free -- we need to encourage people to go in there. The pressing need now is that the central city is dying."
He said the reality was in 30 years everyone would be in electric cars. When asked if this statement meant he would support a second fast-charging point for electric vehicles in the city his response: "Only if people are going to pay for what they use".
Paula Southgate towed the environmentalist line and said the city did not need more parking and building more would send the wrong message on public transport.
Mr King also rejected Council taking part in building new public transport options to Auckland, saying there were already buses running without subsidies, and when asked about heritage said some old buildings just weren't worth saving.
When asked how candidates would support Waiwhakareke Natural Heritage Park, Mr King said Council shouldn't be involved because anything it did would cost twice what the private sector would do it for.
"We should be providing the budgets that we have to not-for-profits and volunteer groups so they can buy the plants, and they can do their own planting and they can clean the gullies up."
True to form passionate data-man Chris Simpson responded to the same question by listing the number of gullies Hamilton had -- 750 hectares worth, apparently -- of which 450 were owned privately.
"It's a matter of how, as Council leaders, we work for those private people and ourselves to improve that gully system, which is an important part of our environment and the Waikato River."
Mr Simpson later suggested the Victoria on the River development not simply be grassed over, but instead become an artificial wetland to combat some of the contaminants from the plot and nearby road -- a new idea which seemed to please the crowd.
Candidates were asked if they would uphold the Local Government Leaders Climate Change Declaration signed by Mayor Julie Hardaker.
Mr Simpson said he had read the agreement and would uphold it, Mr King said he was not familiar enough with the document to comment, and Ms Southgate responded by saying it was all very well to sign into something, but if elected as mayor she would also be looking at ways to implement it.
She responded to a follow-up question regarding why she did not sign the Declaration when she was on the Waikato Regional Council by saying it was a decision that had to be made between all 14 council members.
"If you don't have a majority you don't do it."
When asked whether Hamilton should continue growing out when most cities were growing up Mr Simpson and Mr King said you had to strike a balance between the two, while Ms Southgate said the city had to stay within its existing urban boundaries and avoid taking up "first-class soils".
Jack Gielen, who arrived 15 minutes late, used his talk time to say he was involved in a company that could provide $50,000 homes with 40 homes on an acre.
Mr Simpson, who has talked in the past of the fourth industrial revolution coming to Hamilton, was asked how this one could avoid damaging the environment as badly as the previous three.
"The fourth industrial revolution is taking IT and working with people and that's where we have to become a smart city to understand that. It's a lot more sustainable and environmentally friendly using our heads and our hands."