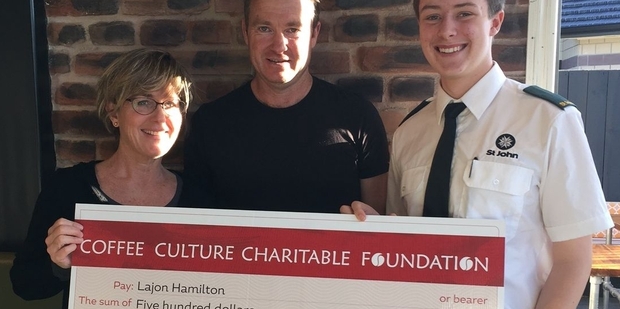 A Hamilton student who aspires to become an intensive care paramedic has been awarded a scholarship to help him achieve his dream.
Lajon Hamilton is one of six students to be awarded a Coffee Culture Scholarship. The scholarships - worth $500 each - are awarded to students who are striving to achieve sporting, cultural or academic goals and need a helping hand to get there.
A Year 11 student at Hamilton Boys' High School, Lajon is determined to forge a career in paramedicine.
He said he had always been drawn to a career in service and helping those in need.
"I have always wanted to make a difference in people's lives without asking anything in return," he said.
Lajon has given his time to organisations such as the Hamilton Homeless Trust, the SPCA, and has helped with fundraising appeals for various charities.
Lajon has been a cadet in the St John Youth division in Hamilton where has has recently completed his First Aid First Responder course.
Lajon's desire to be a paramedic runs in the family.
"Paramedics at one stage were formerly trained on the job and my great aunts, uncles and great grandfather were once fulltime volunteers for St John.
"However, it's now expected that anyone going into this field holds a Bachelor of Health Science degree."
Lajon plans to go to university but will first complete his National Diploma in Ambulance Practice with St John.
Lajon said the scholarship funds would go towards extra tutoring he needs to pass NCEA and costs associated with attending St John training courses and a development camp.
Five Cross Roads Coffee Culture owners Jennifer Statler and Kelvin Weggery said Lajon was "an amazing young man".
"He is actively doing things to make sure his dream becomes a reality.
"He really is motivated and driven - and incredibly polite," said Jennifer.