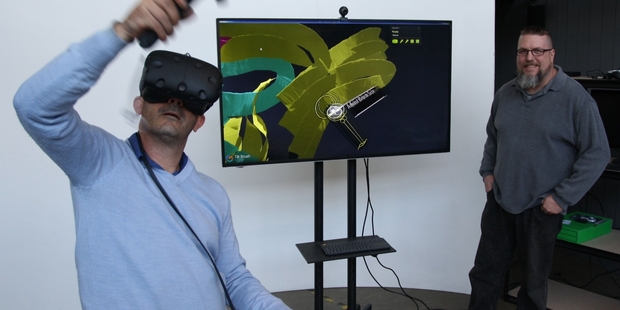 A new private initiative aimed at bringing students into the game and movie industry has launched in Hamilton with co-founder Mike Porter and Simon Hamid eager to put "a little more Tron in the Tron".
Classes at SkillTree will include instruction on visual effects for movie and game platforms, and practical effects, including set design and animatronics.
There will even be the tools and know-how for building armour for cosplay enthusiasts.
The former Wintec plumbing space in Rotokauri has had its guts ripped out, and now drawing tables, powerful PCs and electronics equipment sit between the industrial piping.
The highlight to the venture has to be the virtual reality suite which the pair have tucked away upstairs.
The headset and controllers will be used by Mike and Simon to teach students to make three dimensional worlds to play in.
As Mike Porter explains that as well as for gaming, such landscapes are being developed as a possible rehabilitation process for those with spinal injuries and even immersion therapy for those with phobias, allowing them to be immersed in fear-inducing environments while remaining totally safe.
Mike Porter has 20 years' experience in the games industry, having previously led a media design school in Auckland, and previously worked on Halo 3, Microsoft Flight and Train Simulators, and Monster Truck Madness.
Simon Hamid's expertise is in electronics and music production.
He said SkillTree would target students who either could not afford or did not want to undergo a full university degree, and enter the film or games industry as quickly as possible.
The programme will also include master classes which are week-long intensive courses taught by big names within the industry.
"We are working with getting industry professionals in, so that's people from Weta and people from Hollywood," Mike said. "We have a few people lined up who we can't really talk about yet."
Check out the classes on offer at www.skilltree.co.nz