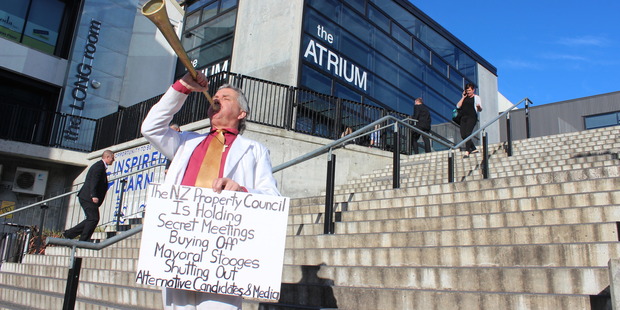 The sight of mayoral candidate Jack Gielen protesting and blowing a horn greeted visits to the Property Council mayoral debate on Thursday.
Mr Gielen said he was running as an anti-corruption candidate and exposing the rich 10 percent for charging high rents and pushing up the prices of homes.
"It's the status quo people who are raping and pillaging the community and they obviously don't want the real people to have homes and so forth."
Mr Gielen said he worked for a construction group alongside a pastor who could build homes for $50,000 and fit 40 homes on an acre of land.
He said he was upset at not being invited to speak at the event.
"A security guy asked me to leave, but I went in there and made it look like I was one of the people. I could have stayed there because I only had to pay $25, but I didn't want to be there and identify with their rip-off agenda."